Enterprise Security Risk Management
Kroll's Enterprise Security Risk Management practice provides expert guidance and advisory services to our global clientele as they navigate the most challenging and emerging security and threat-related issues.
Contact Us
Helping organizations and individuals anticipate, respond and mitigate a myriad of enterprise-wide security challenges.
Kroll's global Enterprise Security Risk Management team excels at proactive threat and risk mitigation, reacting to crises and offering personnel, expertise, advisory and bandwidth when our clients are challenged in ways that affect their internal capabilities and external function.
Our strategic security program management approach ties an organization's security practices to its mission and goals using globally established and accepted risk management principles. We work with our clients to understand their overall missions, needs and priorities—and develop thorough and unique solutions to enhance their overall security postures.
As the senior advisors to our clients on all security and threat-related issues, we provide the critical insights executives need to make serious decisions that protect their enterprise. We leverage industry-leading expertise and cutting-edge technologies to protect all aspects of an organization, including people, assets and reputation.

Federal State and Local Law Enforcement Officers

Corporate Security Executives

Members of the U.S. Foreign Service and Military Veterans

Professional engineers of various disciplines
Why Choose Our Services
Specialized Expertise: Our experts draw from decades of experience in the field and in-depth knowledge of your industry's unique risks, requirements and regulations.
Customized Solutions: We collaborate closely with you to develop personalized security strategies that align with your values, mission, culture, preferences and confidentiality requirements.
Comprehensive Assessments: We conduct thorough security assessments, identifying vulnerabilities and recommending practical, cost-effective solutions.
Emergency Preparedness: Our services include developing and testing emergency response plans, ensuring your institution is well-prepared for a range of contingencies.
Technology Integration: We stay at the forefront of security technology trends and can assist in implementing state-of-the-art solutions.
Training and Education: We offer tailored training programs, empowering stakeholders with general security awareness and the skills needed to respond effectively in emergencies.
Community Engagement: We work with your staff, community and leadership to foster a culture of security awareness and vigilance.
Privacy Protection: We help safeguard your personal information, digital assets and sensitive data, ensuring your privacy remains uncompromised.
Risk Management: We provide guidance on risk management strategies, including insurance considerations and contingency planning.
Regulatory Compliance: We ensure that your organization or institution meets the rigorous security regulations and standards required by the sector or industry you operate in.
Threat Management and Workplace Violence Program Review
Kroll was engaged by a world-renowned cancer hospital and research institute to conduct an enterprise-wide analysis of their threat management and workplace violence programs, processes, training and preparedness.

Publicity-Driven Threat Management Support
Kroll was engaged by one of the largest global law firms to provide threat intelligence monitoring and assessments throughout a highly controversial and widely publicized trial.
Executive Protection Program Review and Executive Threat Assessments
Kroll was engaged by one of the most advanced executive protection programs in the world to conduct comprehensive annual reviews of all aspects of their global program and simultaneously provide threat assessment reports for the organization's senior leadership team.
Learn more

Active Assailant, Workplace Violence and General Security Awareness Training
Kroll was engaged by a global law firm to conduct in-person security awareness, workplace violence and active assailant training at all their offices.

Professional Sports League—Emergency Action Planning and Training
Kroll was engaged by a professional sports league to help develop league-wide emergency action protocols, assess team compliance with the league requirements, and evaluate their ability to activate such protocols through practical exercises.

Geopolitical Risk Monitoring
Kroll was engaged by a software company with operations and employees in Ukraine to assess the potential risk of invasion by Russian forces and to provide dynamic crisis management, business continuity, resilience consulting and risk monitoring.
Physical Security Assessments
Kroll was engaged by a major university to conduct a physical assessment of security-related technologies implemented at the university's central campus. Kroll's work included interviews with various university personnel and on-site surveys of the campus.

Insider Threat
Kroll was engaged by a global distribution company that was concerned about incidents of internal sabotage at one of its distribution warehouses to conduct a thorough site review of its physical, technical and procedural security measures.
Police Department Independent Evaluation
Kroll was engaged by the City of Austin to comprehensively evaluate the Austin Police Department concerning the extent to which forms of racism, bigotry and discrimination are present throughout protocols, practices and behaviors.
Security and Risk Management Consulting
Security and Risk Management Consulting
Kroll's team excels at proactive security consulting and expert advisory solutions, aligning our comprehensive offerings with your enterprise's risk appetite. We offer personnel, expertise, advisory and bandwidth when our clients are challenged in ways that stress their comfort or internal capabilities.
Threat Management, Workplace Violence and Active Assailant Advisory
Threat Management, Workplace Violence and Active Assailant Advisory
Kroll specializes in the precise and carefully measured application of threat management principles to thwart your organization's most compelling threat actors while continuously maintaining control of its safety, principles and reputation.
Business Continuity, Resilience and Disaster Preparedness
Business Continuity, Resilience and Disaster Preparedness
In today's fast-paced world, disruptions can happen anytime. Kroll's full suite of business continuity, resiliency and disaster preparedness capabilities is designed to prepare your enterprise for unexpected risks and maintain competitiveness throughout the full lifecycle of any disruption.
Operational Security
Operational Security
Kroll's sophisticated global network of experts can assist with your operational security needs, whether they are proactive to avoid enterprise risks, reactive augmentation to your current capabilities or capacity-building due to threats.
Webinar Replay | Active Assailant Preparedness Webinar with Enterprise Security and Risk Management Experts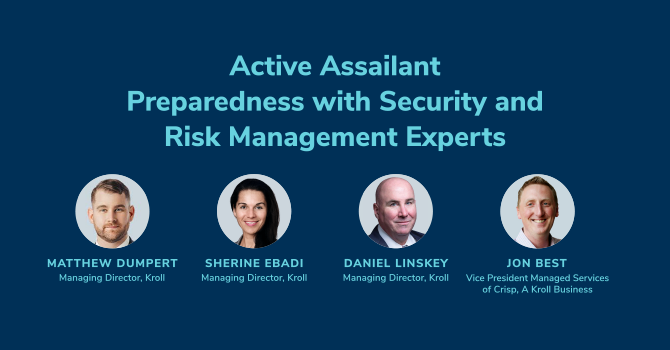 Webinar replay on proactively identifying, preparing for and responding to active assailant threats in the workplace, hosted by Kroll Enterprise Security Risk Management Managing Directors and Crisp, a Kroll business.
Know more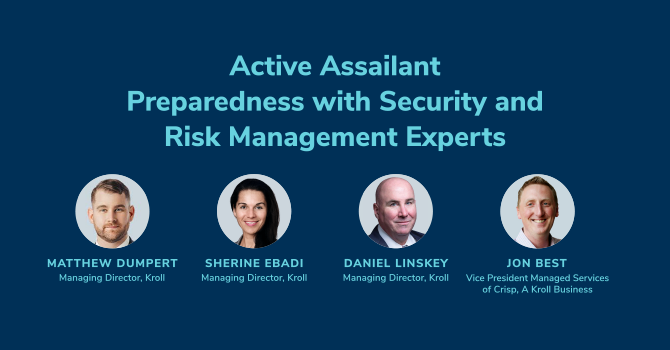 Frequently Asked Questions
Return to top