Expectations were high coming into 2021 following a record closing quarter, and all eyes were on the software sector to maintain its outperformance and dynamic pace of deal-making. Q1 2021 did not disappoint, bringing M&A spending to new highs driven by soaring special purpose acquisition company (SPAC) and strong PE activity. We also observed the first signs of a post-pandemic rotation, starting with the return of volatility in software public markets.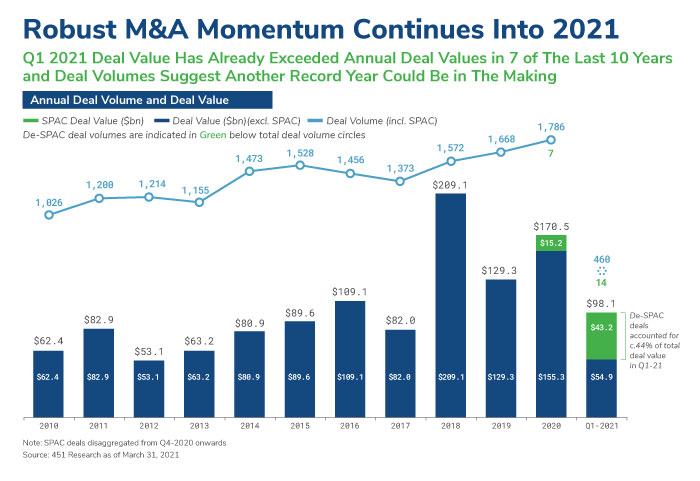 The meteoric rise of SPACs contributed a record 44% of total M&A spending in Q1 2021, taking the spotlight away from the largest tech acquirers. Median valuation multiples for software de-SPAC deals significantly exceeded those of traditional strategic buyers by a factor of c.5-times (21.1x vs. 4.4x), reflecting the focus on higher growth/disruptive technology targets. PE activity, which has redefined the software M&A landscape remained equally robust in Q1, with disclosed median PE multiples exceeding strategic buyers (ex-SPACs).
Worldwide enterprise software spending is projected to grow by over 10% in 2021 as companies focus on enhancing, extending and transforming their value propositions using technology. Employee experience has emerged as one of the major areas of near-term investment, alongside other key applications such as the digital workplace, security, customer engagement, supply chain management, data integration and digital commerce.
Underneath a robust software M&A market, we note the beginnings of a broader sector shift as a post-pandemic world starts to reopen. Tech stocks gained a little in Q1 while the overall S&P 500 index added 5%. Sharp sell-offs were observed for the highest growth SaaS players, bringing much of the market down with them as multiples showed some trends toward mean reversion.
Based on our activity and ongoing engagements, we continue to observe a conducive environment for deal-making and a healthy pipeline of opportunities coming to market. A changing tax landscape could act as a catalyst alongside increasingly successful vaccination programs and a steady economic recovery.
SaaS = Software as a Service
Source: 451 Research as of March 31, 2021
---
Corporate Finance and Restructuring
Corporate Finance and Restructuring
M&A advisory, restructuring and insolvency, debt advisory, strategic alternatives, transaction diligence and independent financial opinions.
Mergers and Acquisitions (M&A) Advisory
Mergers and Acquisitions (M&A) Advisory
Kroll's investment banking practice has extensive experience in M&A deal strategy and structuring, capital raising, transaction advisory services and financial sponsor coverage.
Fairness and Solvency Opinions
Fairness and Solvency Opinions
Duff & Phelps Opinions is a global leader in Fairness Opinions and Special Committee Advisory, ranking #1 for total number of U.S. and global fairness opinions over the past 10 years, according to Refinitiv cumulative data from 2013-2022.
Private Capital Markets – Debt Advisory
Private Capital Markets – Debt Advisory
Kroll has extensive experience raising capital for middle-market companies to support a wide range of transactions.
Transaction Advisory Services
Transaction Advisory Services
Kroll's Transaction Advisory Services platform offers corporate and financial investors with deep accounting and technical expertise, commercial knowledge, industry insight and seamless analytical services throughout the deal continuum.
Financial Sponsors Group
Financial Sponsors Group
Dedicated coverage and access to M&A deal-flow for financial sponsors.
Distressed M&A and Special Situations
Distressed M&A and Special Situations
Kroll professionals have advised hundreds of companies, investors and other stakeholders at all stages of distressed transactions and special situations.
Return to top