Looking back on 2018, Apparel M&A had a record year and finished on a high note, with transaction value totaling $3.4 billion in the fourth quarter.1 Valuations have remained strong for Apparel and Retail, with average EV/EBITDA multiples of 10.1x and 7.5x, respectively, even amidst a public market pull back. The market has shown promise entering 2019, but caution is the watchword as significant economic and political headwinds may suggest that more change is on the horizon.

We witnessed a fair amount of movement in key indicators by the end of the year. Throughout 2018, retail withstood heavy store closures, but in December, mall vacancies finally receded from a seven-year high.3 Volatility in interest rates, as well as economic and trade issues caused public markets to peel back towards year end. Nevertheless, holiday sales enjoyed a robust season that surpassed last year's sales by more than five%.2 This was further underscored by impressive growth on Black Friday and Cyber Monday, which grew by 9%3 and 20%4, respectively, versus last year.

Several trends seen prominently throughout 2018 will, likely continue to shape outcomes in 2019. Consumers are voicing their desire for sustainable fashion products of ethical origin, motivating brands' experimentation with alternative inputs, design and sourcing. On the sales front, revitalized loyalty programs have been successful in getting shoppers to buy more and buy often. Sellers are rewriting online commerce norms with new technology to remove purchasing barriers and solve customer pain points, with streamlined checkout processes, mobile point-of-sale (POS) technology and product discovery engines. Greater diversity in size, ethnicity and gender has taken the spotlight, marked by record runway representation, increasingly authentic advertising and inclusive products to match.

As we look ahead in 2019, brands are presented with a unique opportunity to capture mindshare among consumers. Shoppers continue to explore and discover their preferences for shopping in person versus digitally, allowing brands to forge a truly omnichannel relationship with customers.

Our quarterly apparel report aims to identify trends and provide insights across the apparel sector, focusing on key themes, issues and opportunities. We hope you continue to find this report and its future editions to be a useful source of information.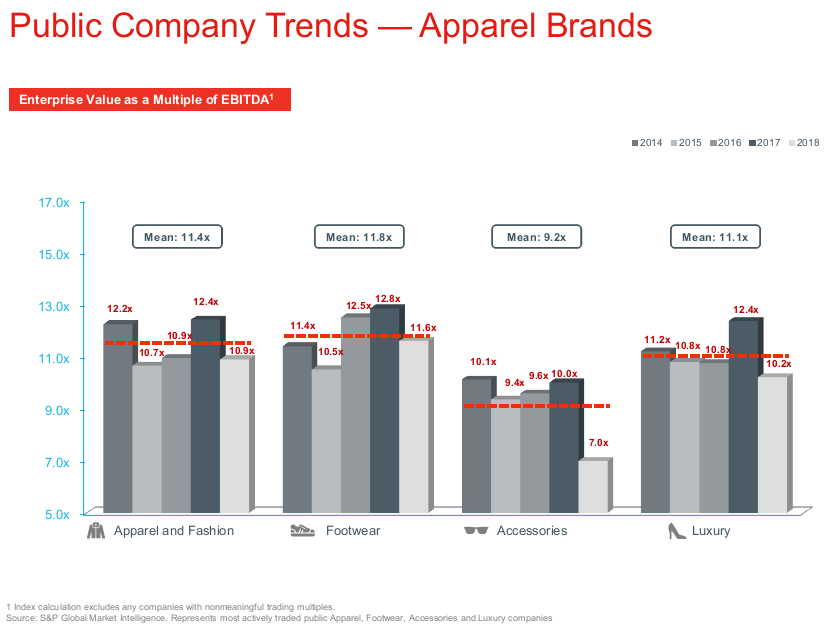 Sources:
1. "Mergers & Acquisitions Review - Full Year 2018." Thomson Reuters.
2. Thomson Financial Securities Data (U.S. deals $50M < $150M, including deals without a disclosed value). Full years 2014 through 2018.
3. "US mall vacancy rate backs off 7-year high, but more closures from Sears, others on the way." CNN. January 3, 2019.
4. "Mastercard SpendingPulse: U.S. Retail Sales Grew 5.1 Percent This Holiday Season." Mastercard. December 26, 2018.
---
Corporate Finance and Restructuring
Corporate Finance and Restructuring
M&A advisory, restructuring and insolvency, debt advisory, strategic alternatives, transaction diligence and independent financial opinions.
Mergers and Acquisitions (M&A) Advisory
Mergers and Acquisitions (M&A) Advisory
Kroll's investment banking practice has extensive experience in M&A deal strategy and structuring, capital raising, transaction advisory services and financial sponsor coverage.
Consumer Investment Banking
Consumer Investment Banking
Consumer, Retail, Food and Restaurant expertise for middle-market M&A transactions.
Transaction Advisory Services
Transaction Advisory Services
Kroll's Transaction Advisory Services platform offers corporate and financial investors with deep accounting and technical expertise, commercial knowledge, industry insight and seamless analytical services throughout the deal continuum.
Fairness and Solvency Opinions
Fairness and Solvency Opinions
Duff & Phelps Opinions is a global leader in Fairness Opinions and Special Committee Advisory, ranking #1 for total number of U.S. and global fairness opinions over the past 10 years, according to Refinitiv cumulative data from 2013-2022.
Financial Sponsors Group
Financial Sponsors Group
Dedicated coverage and access to M&A deal-flow for financial sponsors.
Distressed M&A and Special Situations
Distressed M&A and Special Situations
Kroll professionals have advised hundreds of companies, investors and other stakeholders at all stages of distressed transactions and special situations.
Private Capital Markets – Debt Advisory
Private Capital Markets – Debt Advisory
Kroll has extensive experience raising capital for middle-market companies to support a wide range of transactions.
Return to top