Advanced Settlement Reporting and Transparency
Our vast experience and expansive in-house resources allow Kroll to offer flexible services for each settlement. Our team can accommodate unique functionalities that offer innovative solutions to complex problems.
Contact Us
Real-time Case Statistics
As a value-added benefit to our clients, we provide web-based case dashboards for each engagement that offer real-time, secure access to key performance indicators such as the number of notices sent, claims received and much more.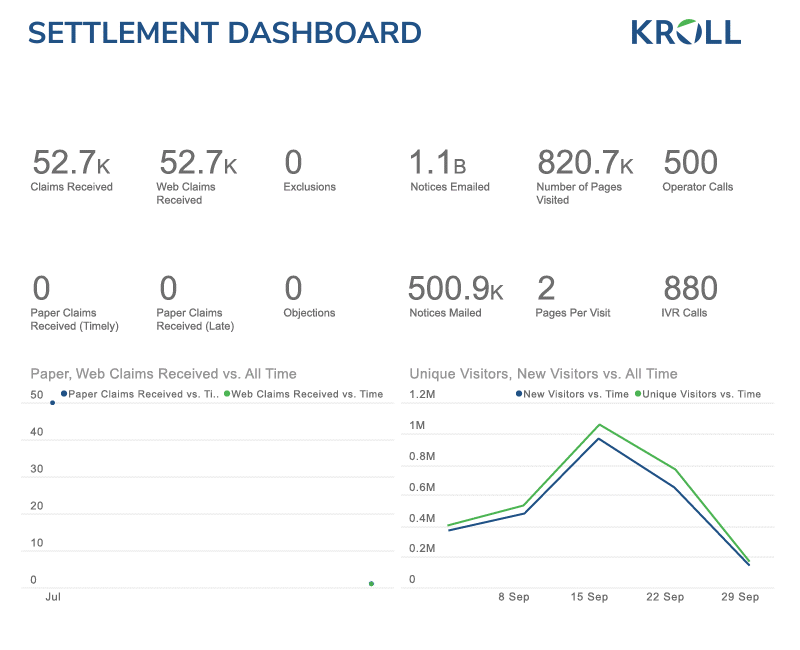 Dashboard features include:
Real-time, 24/7 access to case data via the dashboard
Highly secure, with granular permission levels
Easy access through a web browser and mobile device
Improved communication, transparency and efficiency
Customization and the ability to request visibility of specific stats based on case needs
Post-Distribution Accounting
Our team implemented the first post-distribution accounting report that integrates directly with the settlement website and complies fully with the Northern District of California's Procedural Guidance for Class Action Settlements. This feature is available for every case we handle, including those outside the Northern District.
The data reflected in the settlement summary chart is updated in real-time as our team populates our case databases with information such as total notice mailings/emails sent and the number of claims received, as well as the number of checks issued and cashed.
Contact us for more information about our proprietary platforms and reporting capabilities.
Valuation
Valuation
Valuation of businesses, assets and alternative investments for financial reporting, tax and other purposes.
Cyber Risk
Cyber Risk
Incident response, digital forensics, breach notification, managed detection services, penetration testing, cyber assessments and advisory.
Compliance and Regulation
Compliance and Regulation
End-to-end governance, advisory and monitorship solutions to detect, mitigate and remediate security, legal, compliance and regulatory risk.
Corporate Finance and Restructuring
Corporate Finance and Restructuring
M&A advisory, restructuring and insolvency, debt advisory, strategic alternatives, transaction diligence and independent financial opinions.
Investigations and Disputes
Investigations and Disputes
World-wide expert services and tech-enabled advisory through all stages of diligence, forensic investigation, litigation, disputes and testimony.
Digital Technology Solutions
Digital Technology Solutions
Enriching our professional services, our integrated software platform helps clients discover, quantify and manage risk in the corporate and private capital market ecosystem.
Business Services
Business Services
Expert provider of complex administrative solutions for capital events globally. Our services include claims and noticing administration, debt restructuring and liability management services, agency and trustee services and more.
Environmental, Social and Governance
Environmental, Social and Governance
Advisory and technology solutions, including policies and procedures, screening and due diligence, disclosures and reporting and investigations, value creation, and monitoring.
Return to top