The COVID-19 pandemic hit Mexico as the country was already experiencing hardships. On average, GDP per capita has increased 1% since the North American Free Trade Organization (NAFTA) was ratified more than 25 years ago. In July 2020, the U.S., Canada and Mexico ratified a new trade deal, which may lead to more restrictions for many foreign and national companies than NAFTA. These restrictions include new duties on steel and aluminium and an increase in the percentage of regional content that must be used in vehicles in North America.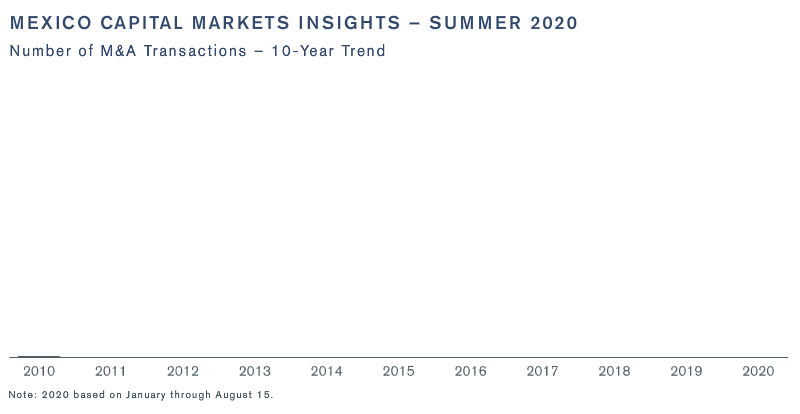 A highly open market, the Mexican economy has been affected by a reduction in export demand, coupled with the impact of lockdown measures. The U.S. and Mexico have limited inbound land border crossings to essential travel through September 21, 2020. Mexico has also been hit by the decrease in oil prices and overall global market volatility.

As of August, the Mexican government has implemented certain measures to mitigate the impacts of COVID-19, including increasing expenditures in healthcare, lending to firms and workers in both formal and informal sectors and providing liquidity support by development banks (64.5 billion pesos).

The Mexican central bank has cut rates by 200 basis points since the pandemic began in March. It has also introduced measures to support the financial system amounting to up to 750 billion pesos, or 3.3% of 2019 GDP.


Source
Center for Strategic & International Studies; International Monetary Fund
---
Corporate Finance and Restructuring
Corporate Finance and Restructuring
M&A advisory, restructuring and insolvency, debt advisory, strategic alternatives, transaction diligence and independent financial opinions.
Mergers and Acquisitions (M&A) Advisory
Mergers and Acquisitions (M&A) Advisory
Kroll's investment banking practice has extensive experience in M&A deal strategy and structuring, capital raising, transaction advisory services and financial sponsor coverage.
Fairness and Solvency Opinions
Fairness and Solvency Opinions
Duff & Phelps Opinions is a global leader in Fairness Opinions and Special Committee Advisory, ranking #1 for total number of U.S. and global fairness opinions over the past 10 years, according to Refinitiv cumulative data from 2013-2022.
Transaction Advisory Services
Transaction Advisory Services
Kroll's Transaction Advisory Services platform offers corporate and financial investors with deep accounting and technical expertise, commercial knowledge, industry insight and seamless analytical services throughout the deal continuum.
Distressed M&A and Special Situations
Distressed M&A and Special Situations
Kroll professionals have advised hundreds of companies, investors and other stakeholders at all stages of distressed transactions and special situations.
Private Capital Markets – Debt Advisory
Private Capital Markets – Debt Advisory
Kroll has extensive experience raising capital for middle-market companies to support a wide range of transactions.
Return to top