2020 was a wildly unpredictable year. The world experienced a pandemic caused by the coronavirus, various social movements, a controversial U.S. presidential election and many other milestones, which led to monumental economic, political, social and fiscal changes. On the economic front, the first few months following the pandemic led to the largest recession since WWII.1 Global economic output declined by 8%, the S&P 500 fell 20% in 16 days between February and March, and the unemployment rate in the U.S. reached a peak of 14.2% in April.1,2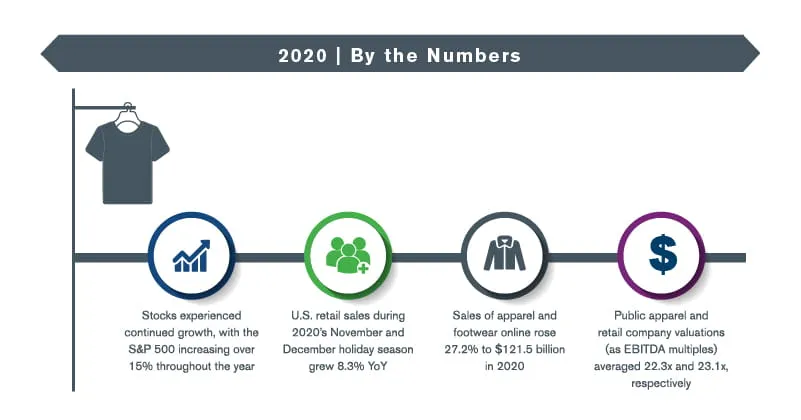 However, with prompt fiscal action from the Fed lowering interest rates and Congress releasing stimulus checks to Americans, the economy regained some momentum. The S&P 500 rose nearly 68% since March, and the unemployment rate – albeit still high compared to pre-COVID levels – decreased to 6.7% by the end of the year.2,3 Ultimately, 2020 concluded on a positive note, with many stocks reaching all-time highs and hopes for an end the pandemic from breakthroughs in vaccine technology.
Within the retail environment, we observed the accelerated paradigm shift from brick-and-mortar to e-commerce and an evolution of consumer shopping behavior. Following bankruptcies of more than 27 retailers within the first nine months, brands and retailers quickly adapted to this new world era of "everything digital" to survive.4 Online shopping became the dominant platform for consumers over traditional in-store shopping, resulting in a 37% increase Q3 year-over-year (YoY) total e-commerce sales.5
Heading into 2021, the apparel and retail industry at large will be challenged make up for losses incurred throughout the year, while the majority of consumers – at least for the first few months of the new year – are likely to remain on the sidelines from making new clothing purchases as compared to pre-COVID-19 era. Nevertheless, we believe in the power of strong brands and remain hopeful that a meaningful bounce-back will be fueled by a stronger economy and pent-up consumer demand.
Our quarterly apparel report aims to identify trends and provide insights across the apparel sector, focusing on key themes, issues and opportunities. We hope you find this report and future editions to be a useful source of information, and as always, please do not hesitate to reach out to us if we can be helpful in any way.
Sources
1 2020 Update, and a Peek at 2021. Goldman Sachs. December 17, 2020
2 "National Employment Monthly Update" National Conference of State Legislatures. January 2021
3 "NRF Says 2020 Holiday Sales Grew 8.3 Percent Despite Pandemic" NRF. January 15, 2021
4 "For the Retail Industry, 2020 was a Wild Ride" Wall Street Journal. December 15, 2020
5 "US Ecommerce Sales Jumped 37% in Q3" Digital Commerce 360. November 19, 2020
Corporate Finance and Restructuring
M&A advisory, restructuring and insolvency, debt advisory, strategic alternatives, transaction diligence and independent financial opinions.
Consumer Investment Banking
Consumer, Retail, Food and Restaurant expertise for middle-market M&A transactions. In 2018, Duff & Phelps acquired Kroll and unified under the Kroll brand in 2020.
Fairness and Solvency Opinions
Duff & Phelps Opinions is a global leader in Fairness Opinions and Special Committee Advisory, ranking #1 for total number of U.S. and global fairness opinions over the past 10 years, according to Refinitiv cumulative data from 2013-2022.
Private Capital Markets – Debt Advisory
Kroll has extensive experience raising capital for middle-market companies to support a wide range of transactions. Duff & Phelps acquired Kroll in 2018 and unified under the Kroll brand in 2020.
Return to top