In 2013, Kroll launched its inaugural study examining general goodwill impairment trends across countries and industries within the European market.
We are pleased to present the 2021 European Goodwill Impairment Study (2021 Study), which explores goodwill impairment trends by companies in the STOXX® Europe 600 Index, focusing on 2016-2020 calendar years. The STOXX® Europe 600 Index comprises large, mid, and small capitalisation companies across just under 20 countries within the European region.
The 2021 Study also continues to show impairment trends and statistics for benchmark stock market indices across five countries:
France (CAC 40)
Germany (DAX)
Italy (FTSE MIB)
Spain (IBEX 35)
United Kingdom (UK) (FTSE 100)
Highlights of the Study
Total goodwill impairment recorded by European listed companies in the STOXX® Europe 600 increased for a third consecutive year. Goodwill impairment rose 49% to €54.1 billion (bn) in 2020
The number of goodwill impairment events increased for a third consecutive year, rising from 126 in 2019 to 152 in 2020, or 21%. At the same time, the average impairment amount per event also increased by 23%, from €289 million (mn) to €356 mn over the same period.
In 2020, the top 10 goodwill impairments represented just over half of the aggregate goodwill impairment of €54.1 bn. Of the companies that registered the top 10 events for the year, nine cited COVID-19 as either the cause or partly contributing to the impairment.
Industry Highlights from the 2021 Study
The top three industries with the most significant increase in goodwill impairment amounts in 2020 are as follows, in order of magnitude (€ bn):
Financials & Real Estate (€17.2 to €22.6)
Materials (€1.1 to €5.7)
Communication Services (€0.6 to €3.9)
Financials & Real Estate topped the list for the third consecutive year, registering its highest goodwill impairment level since 2011.
Materials registered its highest goodwill impairment level since 2013, as the pandemic lockdowns delayed construction projects and disrupted global supply chains.
Consumer Staples was the only industry seeing a decline in 2020, as demand for necessities helped offset some of the adverse effects of the pandemic. However, the aggregate goodwill impairment in 2020 was still the second highest level registered by this industry, following the record high reached in 2019.

Geographic Highlights from the 2020 Study
At €13.4 bn, Spain was the country within the STOXX® Europe 600 with the highest aggregate amount of goodwill impairment in 2020. This represented more than a threefold increase from the 2019 level (of €4.0 bn), disproportionately driven by a single event.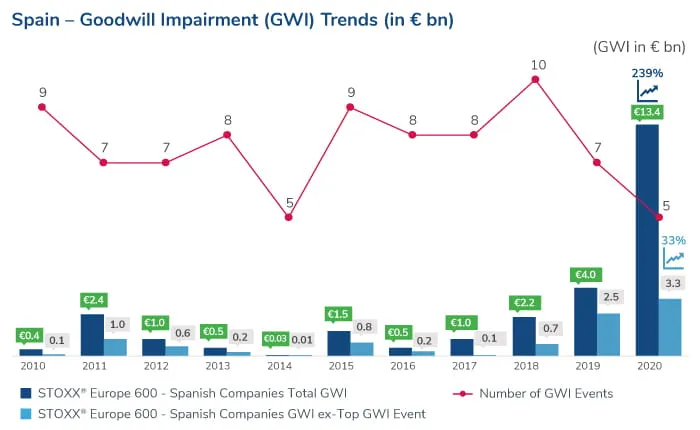 At €11.8 bn, the UK saw the second highest goodwill impairment amount, dropping from first place in 2019.
Germany took the third spot, with aggregate impairment climbing to €9.7 bn, which was accompanied by a record high number of impairment events for the country.
---
Return to top