Staffing Industry Insights – Summer 2020
U.S. staffing industry M&A activity declined significantly in the second quarter of 2020, as COVID-19 related shutdowns greatly impacted the staffing ecosystem. The number of completed staffing M&A transactions in the near term will continue to be adversely impacted, as many deal processes have been delayed.

Even before the pandemic, many of the U.S. public staffing companies were absent from notable M&A activity, as staffing industry acquisition activity remains primarily driven by private equity-owned strategic buyers seeking to scale their existing platforms to create value for subsequent exits.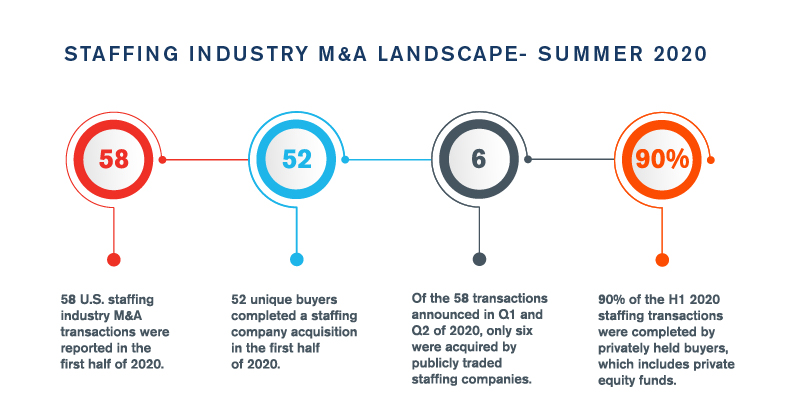 Strategic buyers accounted for 83% of the staffing industry acquisitions in the first half of 2020, with private equity funds (financial buyers) investing in new platform acquisitions accounting for the other 17% of transactions.

– Private equity acquired 10 new platform staffing investments in the first half of 2020. This follows the 65 new platform investments in the staffing industry made by private equity from 2017-2019.

Companies in the professional staffing sector appear to be performing the best through the COVID-19 pandemic, while industrial staffing providers appear to be experiencing the sharpest revenue declines. Our conversations with potential buyers and sellers suggest that after the worst of the COVID-19 crisis passes, staffing M&A activity may recover fairly quickly, as there is no shortage of active buyers in many segments of the staffing industry.
---
Transaction Advisory Services
Transaction Advisory Services
Kroll's Transaction Advisory Services platform offers corporate and financial investors with deep accounting and technical expertise, commercial knowledge, industry insight and seamless analytical services throughout the deal continuum.
Distressed M&A and Special Situations
Distressed M&A and Special Situations
Kroll professionals have advised hundreds of companies, investors and other stakeholders at all stages of distressed transactions and special situations.
Fairness and Solvency Opinions
Fairness and Solvency Opinions
Duff & Phelps Opinions is a global leader in Fairness Opinions and Special Committee Advisory, ranking #1 for total number of U.S. and global fairness opinions over the past 10 years, according to Refinitiv cumulative data from 2013-2022.
Financial Sponsors Group
Financial Sponsors Group
Dedicated coverage and access to M&A deal-flow for financial sponsors.
Private Capital Markets – Debt Advisory
Private Capital Markets – Debt Advisory
Kroll has extensive experience raising capital for middle-market companies to support a wide range of transactions.
Return to top