Regulatory Advice and Consulting Services
Assistance to develop, implement, and manage global compliance and regulatory consulting programs.
Contact us
/en/services/financial-services-compliance-and-regulation/regulatory-advice-consulting-services
/-/media/feature/services/financial-services-compliance-and-regulation/regulatory-advice-consulting-services-desktop-banner.jpg
service
The financial services industry is subject to increasing regulatory scrutiny, with the financial and reputational costs of breaches growing. Financial institutions are also examining their business models and undertaking strategic trend analyses to prepare for future challenges and opportunities – of which regulation plays a key part.
As an award-winning provider of compliance and regulatory consulting services to the financial services industry, Kroll helps clients to develop, implement and manage their compliance and regulatory consulting programs.
Our multidisciplinary team - drawn from leading financial institutions, regulators, government authorities and advisory firms - operates across borders to provide seamless service, cross-jurisdictional advice and varied expertise to clients. Based in key financial centers, we are closely connected with regulators and industry associations so that our clients have the best available information on regulatory requirements and trends.
Whatever challenge you are facing, our team can assist.
Valuation
Valuation of businesses, assets and alternative investments for financial reporting, tax and other purposes.
Compliance and Regulation
End-to-end governance, advisory and monitorship solutions to detect, mitigate and remediate operational security, legal, compliance and regulatory risk.
Cyber Risk
Incident response, digital forensics, breach notification, managed detection services, penetration testing, cyber assessments and advisory.
Environmental, Social and Governance
Advisory and technology solutions, including policies and procedures, screening and due diligence, disclosures and reporting and investigations, value creation, and monitoring.
Client Alert
---
Ireland Regulatory Update – April 2022
Apr 28, 2022
by Grainne O' Farrelly, Eoin Devlin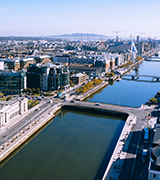 Compliance
---
Markets Services Case Studies
Sep 06, 2021 - Kroll assists financial services firms, trading venues and technology providers to comply with regulatory obligations and meet industry best practice in relation to all aspects of markets, pre-trade and post-trade regulatory reporting and surveillance.