Kroll, a division of Duff & Phelps, a global leader in risk mitigation, investigations, compliance, cyber resilience, security and incident response solutions, today announced that its Cyber Risk practice has been named a Pacesetter in the management consulting segment of the ALM Intelligence Pacesetter Research: Cybersecurity Services 2020 thanks to its ability to deliver end-to-end cyber risk management solutions to clients worldwide.
This year's recognition follows Kroll's recognition as a Vanguard Leader in The ALM Vanguard: Cybersecurity Consulting 2019, reinforcing the impact of Kroll's end-to-end cyber risk solutions in an increasingly complex cyber security environment that demands rapid response, actionable intelligence and effective governance. In the 2020 report, Kroll is acknowledged as unique among the Pacesetter cohort "for a business model focused on maintaining an elite team of security professionals" that are "fully engaged in helping clients coordinate the services within their broad ecosystem of law firms, insurance providers and managed security services providers." Kroll also earned high marks for its "global, end-to-end cyber risk offering that supports the entire incident lifecycle: incident response, notification, monitoring and proactive services."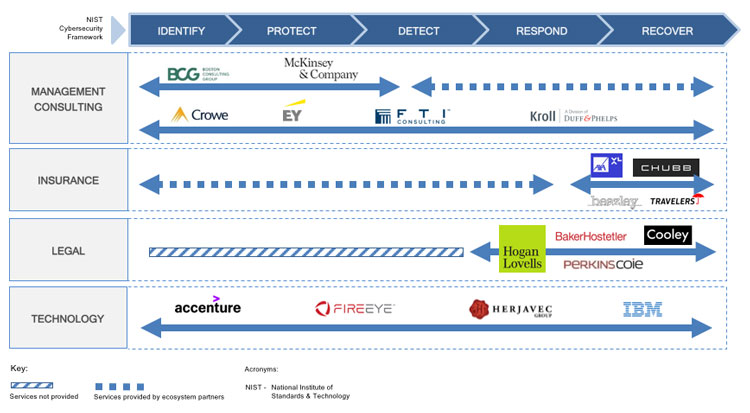 "The current environment underpins the need for organizations to build a defensible security strategy able to adjust to massive change while empowering the business to continue delivering value. With organizational, political and criminal activity swinging wildly, security and risk leaders can't afford to be seen as obstacles but instead as enablers of business," said Jason Smolanoff, Kroll's Global Cyber Risk Practice Leader. "Clients benefit from our five-pillar framework of governance, infrastructure and standards, policies and procedures, people and training, and relationships, which expands security beyond technology solutions to embed not only higher standards but more flexibility and redundancy into everyday operations."
"Kroll's leadership shines when clients face the most complex security challenges, from compliance, privacy and risk, remote work, staff augmentation and insider threats to intellectual property and reputational threats," said Andrew Beckett, EMEA Leader in Kroll's Cyber Risk practice. "We're proud to be recognized once again by ALM Intelligence."
ALM Intelligence Pacesetter Research takes a uniquely customer-centric view of the professional services marketplace by analyzing the comparative strengths and weaknesses of providers across multiple disciplines, enabling buyers to make better-informed decisions and providers to better understand their increasingly dynamic competitive landscape. ALM Pacesetters are identified and selected by a panel of experts, including general counsel, procurement, external professionals and academics, and internal ALM representatives.
A summary version of the ALM Intelligence Pacesetter Research: Cybersecurity Services 2020 is available for download here.
About Kroll, a division of Duff & Phelps
Kroll is the leading global provider of risk solutions. For more than 45 years, Kroll has helped clients make confident risk management decisions about people, assets, operations and security through a wide range of investigations, cyber security, due diligence and compliance, physical and operational security, and data and information management services. For more information, visit www.kroll.com.

Duff & Phelps is the world's premier provider of governance, risk and transparency solutions. We work with clients across diverse sectors in the areas of valuation, corporate finance, disputes and investigations, cyber security, claims administration and regulatory compliance. With Kroll, the leading global provider of risk solutions, and Prime Clerk, the leader in complex business services and claims administration, our firm has nearly 4,000 professionals in 25 countries around the world. For more information, visit www.duffandphelps.com.

About ALM Intelligence
ALM Intelligence provides proprietary data, analysis, tools and knowledge that empower our clients to succeed. The product suite and vast data repository arm professionals with the critical business information required to make the most impactful and informed decisions possible. The exhaustive data repository and product functionality enable professionals to combat competitive challenges head-on with the confidence to remain ahead of the field. The depth of ALM Intelligence's expertise across the benefits, insurance, consulting and legal industries provide a broad spectrum of actionable intelligence to facilitate and execute strategy.
2020-10-28T00:00:00.0000000
0001-01-01T00:00:00.0000000
/en/about-us/news/kroll-named-cyber-security-services-pacesetter-alm-intelligence
/-/media/kroll/images/publications/featured-images/2019/alm-pacesetter-research.jpg
news
{E39587AD-8F0B-4FE2-865F-969BC5501096}
{058CEC4B-AB74-4982-A8CC-B399FCB93BB2}
{B1FF17CC-D957-458C-A381-D10935C635C8}
{44969BA1-47AB-4BE6-BC0C-6EE0232385DF}
{3F9C86F0-701F-4E6D-9B8B-E6EA351C3C63}
{2F9D4938-E5F0-4F9C-9A20-C4A5DCF79130}
{0D8F5BE3-DF68-470D-ADFF-536F0505BF20}
{911A8E3E-0E6C-4303-A7D0-63E02AA205CF}