Kroll Charitable Foundation
Kroll supports our communities and the causes most aligned to our values through the Kroll Charitable Foundation and employee-directed philanthropy. Since its launch in 2018, the Kroll Charitable Foundation has distributed millions in funds to more than 240 charities worldwide. In 2021, our employees dedicated more than 1,000 hours of volunteer time and raised more than $60,000 for local charities. To view our 2021 Annual Report, click here.
The Kroll Charitable Foundation is committed to nurturing innovative ideas, impacting economic and social issues and enabling progress in underserved communities around the globe. Its focus is on non-profit organizations that:
Align with the firm's core values
Support inclusion and diversity
Address critical needs or disaster response in areas where Kroll employees live and work
Promote financial literacy and opportunity
COVID-19 and Disaster Response
Supporting the COVID ZERO Business Coalition, one of the first donors to pledge funds in support of vaccine research and development, the foundation granted its largest single donation of $250,000 to the Coalition for Epidemic Preparedness Innovations (CEPI), who comprise the COVID ZERO vaccine development unit.
When the pandemic surge in India depleted medical supplies, Kroll was able to provide critical funding through the U.S. India Friendship Alliance (USIFA) and U.S. India Strategic Partnership Forum (USISPF) to deliver lifesaving resources to the frontline medical workers.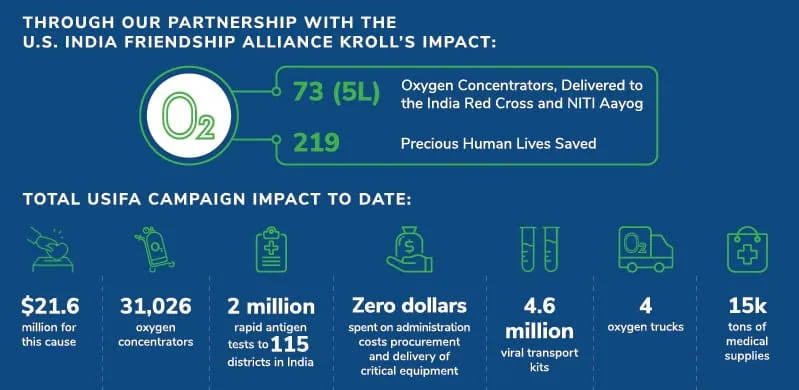 Following the large-scale impact of winter storms in Texas in 2021, the foundation made a grant to the American Red Cross Disaster Relief Fund to support those in need.
Philanthropic Initiatives
In addition to the foundation's work, Kroll supports employee-directed philanthropy including volunteerism and pro-bono work.
In collaboration with Salesforce, we partnered with Story Pirate Changemakers, donating $35,000 in support of their mission to improve children's literacy. Over 400 colleagues from around the world read and responded to over 1,100 stories written by children across 15 countries.
Pro-Bono Partnerships
In 2021, we partnered with a number of organizations to provide pro-bono work including the Innocence Project to exonerate an innocent man after 19 years in prison and worked with Unchained at Last on an initiative to abolish forced child marriages in the U.S.
The Kroll Charitable Foundation is a U.S. 501(c)(3) and an independent entity from Kroll. It is led by a board of directors and regional advisory committees. The impact of the Kroll Charitable Foundation reflects the generosity and commitment of the firm, its colleagues and clients. Donations to the foundation are welcome.