Full-service competition advisory, investigation and litigation offering.
National antitrust and competition authorities seek to protect markets and consumers by preventing exclusionary behavior, such as cartels and bid rigging, or by preventing exploitative behavior and abuses of market power or dominant market positions. In some jurisdictions, penalties for breaches may involve fines of up to 10% of worldwide revenues along with criminal sanctions.
Breaches of antitrust and competition law involve not only severe sanctions on firms and their officers and directors but also give rise to potential third-party damages claims, where customers may allege they have been exploited with higher-than-normal prices arising out of a cartel, or that competitors may have been foreclosed from a market or sub-market, given anti-competitive conduct or abuse by the dominant firm.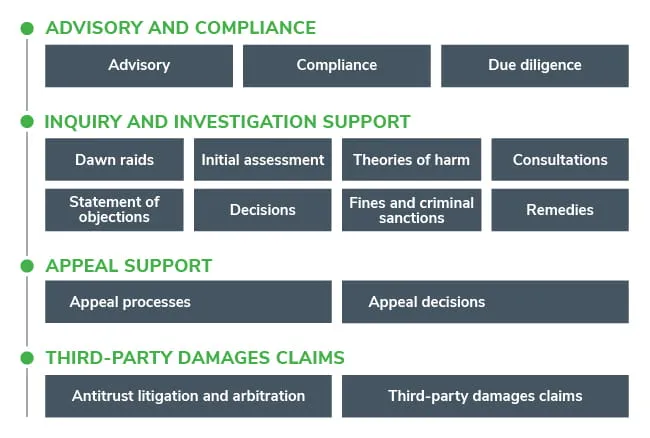 Kroll can support firms operating across the globe, and those going before antitrust and competition authorities worldwide. Our experts include economists, accountants, investigative specialists and technologists. Kroll has a full-service competition advisory, investigation and litigation offering, with considerable experience in supporting clients from pre-investigation phase through the full course of competition or market inquiries led by a relevant authority, and subsequently through the course of any third-party damages claims.
Kroll's Forensic Investigations and Intelligence services also support clients with proactive or reactive antitrust and competition matters. Our team helps clients understand the situation they are facing and assists them in making confident and well-founded decisions when dealing with complex competition-related situations, including proactive non-technical risk assessments, support during disputes and regulatory actions.
Competition Advisory and Compliance Services
Kroll can support clients, alongside legal experts, in developing compliance programs to ensure that they remain on the right side of antitrust rules. In this respect, Kroll can undertake risk assessments, develop strategies–be they short-term or long-term–to ensure compliance with rules, and help implement monitoring and reporting procedures.
The Kroll team can also proactively assist with information and intelligence gathering, which may support mergers, and in evaluating competition landscapes.
Competition Inquiries, Investigations and Appeals
Kroll can assist clients and appointed counsel with all aspects of an investigation or probe, including day-to-day engagement with the authority, collation of materials to be provided in response to information requests, preparation of team members for hearings, intelligence gathering to support the evidence base and drafting of responses, as required.
Kroll has a unique evidence-based investigative methodology, including bespoke and proprietary information-gathering tools and an extensive global human intelligence network. The team can leverage its expertise, global reach and technology to provide clients with an informational advantage. A deeper and more refined information set supported by contextual intelligence results, enabling us to apply the most appropriate methodology to each investigation to deliver efficient, effective results.
Kroll's experts are also able to assist clients in respect of analyses and evidence gathering needed to support the substantive issues of cases. Kroll brings to bear relevant expertise as may be needed on economic and accounting aspects, and in relation to investigation support. For example:
Undertaking market delineation exercises to circumscribe the market under consideration
Modeling demand and markets, and undertaking market power assessments (e.g., using a small but significant and non-transitory increase in price, or SSNIP, test)
Assessing anti-competitive agreements or abusive conduct (e.g., margin squeeze, predation, unlawful discounts or undue price discrimination)
Supporting clients through merger clearances, due diligence and undertaking merger simulation modelling
Supporting clients through market investigations, including assessing efficiency issues
Assessing the provision and lawfulness of state aid
Competition Damages Claims
Kroll's experts can advise clients in respect of competition damages claims, including in relation to the quantification of overcharges, also referred to as price inflation, and the passing-on of any effects to parties along the supply chain.
Kroll's accountants have significant experience in providing accounting and financial expert evidence for both claimants and defendants in a wide range of competition law disputes. Our knowledge of and experience in how businesses operate underpins our ability to provide robust expertise relating to commercial and trading issues. Kroll economists can also model market impacts and the range of competitive effects of practices that may have been found to be an abuse of a dominant position.
Kroll's experts may also assist with claimant identification, for example, deploying investigative skills to identify users or claimants who may have been affected by anti-competitive conduct or abusive behavior.
/en/services/expert-services/regulatory-accounting-economics-disputes/competition-antitrust
/-/media/kroll/images/services/expert-services/competition-antitrust-dektop-banner.jpg
service