Manage challenges and uncertainties throughout the project lifecycle. 
Kroll's experts have worked with global capital project clients and law firms across all industry sectors. Leveraging our deep expertise and major complex program delivery experience, we offer our clients a range of core advisory services that will enable and support them in delivering the world's most challenging projects.
We leverage the capabilities and problem-solving experience of our diverse consulting professionals, including financial, technology, project management, risk management, delay, quantum and construction and engineering specialists, drawing on our experience of working across sectors and throughout the entire project and asset lifecycle.
Our Core Advisory Services
Business Case Support
Digital PMO Support
Project Controls
Project Assurance
Project Review
Project Recovery
Business Case Support
The political and economic environment is uncharacteristically fluid. This leads to uncertainty in project delivery and impacts stakeholder confidence that benefits will be realised. Defining robust business cases that meet the requirements of a typical "five case model" is demanding and requires an in-depth knowledge of complex projects and commercial planning.
Kroll supports our clients by addressing their business case issues and challenges, drawing on our extensive capital project delivery and business case development expertise.
Our Approach
We can help to define the business case at any stage of development, from reviewing existing documentation, to developing compelling cases, through to getting buy-in from key stakeholders. Our approach considers each of these areas in turn:
Existing Case Review – We undertake an initial review of the program's current business case and wider strategy. We aim to replicate the challenges the business case may expect from key internal and external stakeholders.
Business Case Development – Working closely with our clients, we provide targeted support to define, develop and draft specific cases and/or aspects of a program's business case as required.
Strategic Stakeholder Support – Recognizing the diverse number of stakeholders that influence complex capital programs, we provide support that ensures all parties are confident that the business case objectives will be achieved.
Digital Project Management Office (PMO) Support
Our clients are facing unprecedented challenges due to global economic upheaval, an evolving technology landscape, complex supply chains and the disruption of traditional industries and sectors. As a result, the complexity of program delivery is increasing, with time and cost pressures being squeezed to drive efficiencies.
Kroll's approach is underpinned by our practical experience and our program delivery principles to influence positive change on major complex capital programs and deliver:
Insight: Effective communication, leadership and integration that will guide the successful delivery of the program.
Control: Resilient delivery processes that support the development of the program and capture and share information in a consistent manner.
Impact: The effective delivery of the program via a clearly defined plan, enabled by an environment of continuous improvement and benefit realization.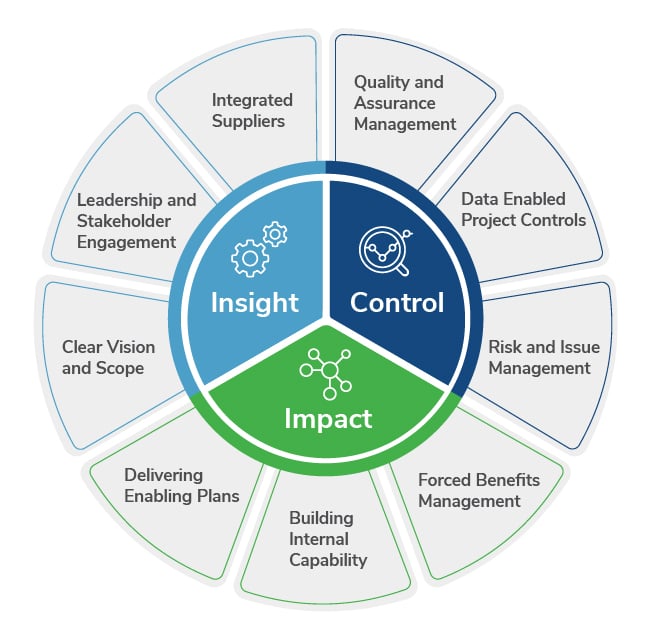 Project Controls
All projects have their own delivery challenges and each of these in turn will increase uncertainty - potentially affecting costs, schedule and the viability of the project. To manage their capital portfolios effectively, organizations are realizing the importance of appropriate project controls to help them confidently deliver their projects on time and to budget.
We work collaboratively with public and private sector clients utilizing our proven methodology. This is built on the principles of establishing rapid control of the project, restoring confidence in the plan and providing the insights required to make effective management decisions.
Assess – We undertake an initial assessment of existing systems, processes and capabilities to develop the right plan.
Design – We develop bespoke solutions and plans that meet strategic objectives and take into consideration the impact on people, processes, systems and existing data.
Implement – We can lead a transformation change program to provide assurance that the solution will be successfully implemented.
Transition – We provide on-going support to enable a successful transition from a new controls environment into business as usual. This can be short-term resource augmentation or long-term strategic partnering.
Project Assurance
Delivery organizations are increasingly adopting a "three lines of assurance" approach–providing more enhanced governance and control over their projects. These independent lines are defined as day-to-day management and control, separate internal oversight functions, and lastly, independent review. Our team of experts has experience operating across each of these three lines. We bring our real-world delivery experience to the project to provide comfort at each stage of the project lifecycle.
We believe that the best approach is to work collaboratively to form an integrated team which is flexible and agile to meet requirements.
We can develop a risk-based assurance plan to focus activities on those areas that represent the greatest threats and opportunities to the project. A typical assurance plan would consist of one, or more, of the following review types:
Gate Reviews – Conduct a review at key points in time over the project's lifecycle, i.e., prior to a key procurement decision.
Embedded/Ongoing Progressive Assurance – Continuous support across key projects to validate that teams and processes are operating appropriately.
Supporting Key Functions – Attending key governance forums to provide independent advice and expertise, i.e., attendance at steering committee meetings, strategic risk forums, etc.
Deep Dives in Specific Areas – Assess critical areas of the project in greater detail to identify areas to improve delivery or reduce risk.
Project Review
Organizations and major programs must demonstrate that they are in control of their projects and that the anticipated outcomes will be delivered on time and to budget.
Kroll's Project Review Framework enables us to rapidly assess the performance of projects and programs–providing leading industry insights and recommendations to mitigate risks and support the successful delivery of projects. Working with our clients, we support them in prioritizing their issues and recommending targeted actions that enable them to mitigate risk and effectively realise their desired benefits.
Identify – Undertaking an initial assessment of performance to provide confidence that appropriate delivery criteria are in place.
Assess – Leveraging our industry insight and project dispute expertise to undertake a targeted assessment of any performance delivery issues, opportunities and/or any unresolved risks.
Mitigate – Provide targeted recommendations and actions to address any identified issues based on priority of delivery and requirement.
Realize – Provide ongoing support to address the issues identified to enable the realisation of targeted programme objectives and benefits.
Project Recovery
Now, more than ever, organizations must demonstrate that they are in control of their projects and that the anticipated outcomes will be delivered on time and to budget. When a project is going wrong, every decision made by the leadership team can be critical.
Having the right support by your side is essential in getting your distressed project back on track. Our approach will provide you with the objective insight you need to make informed decisions to recover your project.
Assess – Establish the facts to determine what the current issues are, and their underlying causes. Identify priority areas for remediation.
Stabilize – Deploy resources to focus on the immediate priority areas. Establish control of the project plan, align the budget and mitigate key risks.
Plan – Identify strategies to detect and avoid future issues. Address systemic causes so a strong foundation can be set for future performance.
Implement – Create a self-sustaining environment to support delivery. Communicate with strategic stakeholders to restore confidence.
/en/services/expert-services/construction-expert-services/project-advisory
/-/media/kroll/images/services/expert-services/construction-project-advisory-services-dektop-banner.jpg
service