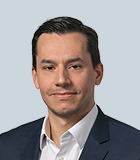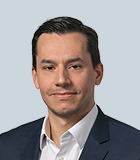 Victor Parzyjagla
Director, Issuer Services and Business Technology
Victor Parzyjagla is a director in the Issuer Services and Business Support Solutions practices. Within Kroll Business Support Solutions, he focuses on business development and leverages his experience to identify and service the complex business needs of clients.
Prior to joining Kroll, Victor worked for Oddo & Cie. He joined Kroll Issuer Services (previously Lucid Issuer Services) in 2012 as an analyst before becoming a director in 2020.
Victor also co-founded Kroll Business Technology, which is part of our Business Support Solutions practice. He specializes in structuring and executing corporate actions in both international and domestic markets, with a concentration in complex and high-volume transactions such as debt restructurings and reorganizations.
Victor received a B.A. from Grenoble Ecole de Management and a M.S. in finance from Grenoble Graduate School of Business.
---
Parzyjagla
/en/our-team/victor-parzyjagla
/-/media/kroll-images/headshots/victor-parzyjagla.jpg
people
{70E25357-B690-49B8-948F-958DAD26DCD4}