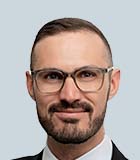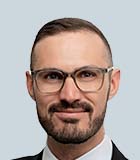 Taylor Carson
Senior Director, Delay and Quantum Expert
Taylor Carson is a senior director in the Expert Services practice, based in the Toronto office. He has Project Management Professional (PMP®) with over 10 years of experience in the construction and engineering industries.
He has been engaged in a variety of projects including airports, commercial developments, high-rise buildings, hospitals, rail facilities and transport infrastructure.
Prior to joining Kroll, Taylor was an associate director at Blackrock Expert Services, which was acquired by Kroll in 2020.
Taylor specializes in both delay and quantum expert services where he has assisted appointed experts on a range of construction and engineering project disputes on matters of delay, programming and quantum management. He has provided services on disputes related to contract terminations, extension of time claims and valuation of variations and defects. His experience also includes alternative dispute resolution methods such as adjudication and international arbitration.
Taylor commenced his career as a structural engineer designing large concrete and steel structures throughout North America, the Middle East and Europe. As a project manager his experience spans the whole project life cycle, including contract preparation and administration, design, procurement, construction and facilities management. Taylor has worked for project employers both in-house and as an engineering consultant. As a dispute resolution consultant, he has been engaged by project employers and contractors.
Taylor retains a professional engineering license in Canada.
---
Construction Expert Services
Construction Expert Services
Expert analysis, testimony and advice for construction and engineering disputes and projects.
Expert Services
Expert Services
Independent expert analysis, testimony, advice and investigations for complex disputes and projects.
Return to top