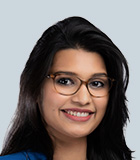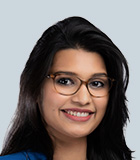 Simerna Singh is a director in the Alternative Asset Advisory practice, based in Toronto. She leverages more than 12 years of experience and specializes in valuing illiquid securities and interests for hedge funds, private equity funds, limited partner investors and corporations. She has expertise in advising alternative asset investors on best practices and fair value policies and procedures.
Simerna has experience in managing, executing and coordinating multiple client engagements for valuing illiquid assets under the guidelines of ASC §820 or the equivalent international standard. The securities include U.S. and global debt instruments (such as revolvers, term loans, subordinated debt and mezzanine debt), partnership units, private equity and leveraged investments in industries, including automotive, health care, consumer products, finance companies, manufacturing, real estate, retail, technology and telecommunications. She has valued businesses as well as a wide range of debt and equity securities and intangible assets across numerous industries for various purposes, including mergers and acquisitions transactions, financial reporting, tax, restructuring and the administration of management compensation plans under the guidelines of IFRS 13, ASC§820, ASC §805 (formerly SFAS 141) and ASC §350 (formerly SFAS 142). Additionally, she has also worked on complex option valuations, including the Monte Carlo and binomial option pricing models.
In 2019, Simerna was selected for India's Top 100 Women in Finance award by the Association of International Wealth Management of India (AIWMI).
Simerna holds a Bachelor's of Commerce (Honors) from Shri Ram College of Commerce, Delhi University.
---
Alternative Asset Advisory
Alternative Asset Advisory
Heightened regulatory concerns and vigilance, together with increased investor scrutiny, have led to increased demand for independent expert advice.
Portfolio Valuation
Portfolio Valuation
Kroll specializes in assisting clients with the valuation of alternative investments, specifically securities and positions for which there are no "active market" quotations.
Valuation Advisory Services
Valuation Advisory Services
Our valuation experts provide valuation services for financial reporting, tax, investment and risk management purposes.
Return to top