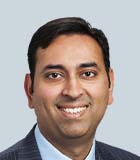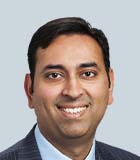 Sid Jaishankar
Managing Director, Testifying Expert
Sid Jaishankar, CPA, CA, CFA, CBV joined Kroll in 2010. He is a managing director in the Toronto office and part of the Canadian Expert Services and Valuation Advisory Services practice. Sid has over 13 years of experience in business and securities valuation, damages quantification and expert testimony.
Sid specializes in the areas of business and securities valuation and damages quantification. He has prepared and critiqued numerous expert reports that have been accepted by various Canadian courts in respect of business valuation and damages quantification pursuant to a variety of dispute matters including, but not limited to, commercial, intellectual property, tax and securities litigation.

Sid has been qualified as an expert witness and given evidence on damages quantification in the Ontario Superior Court of Justice.

Sid is a member of various professional organizations including Chartered Professional Accountants ("CPA") Ontario, the CFA Institute and the Canadian Institute of Chartered Business Valuators. He has also completed CPA Canada's in-depth tax course (parts 1, 2 and 3). Sid obtained his Bachelor of Mathematics and Master of Accounting degrees at the University of Waterloo and was awarded the Rene Descartes Entrance Scholarship, Friar Luca Pacioli Fellowship and the Ontario Graduate Scholarship.

Sid has authored or co-authored the following publications:
Kroll monograph entitled "Damages Calculations in Intellectual Property Cases in Canada", June 2012 (co-author);
Kroll monograph entitled "Accounting of Profits in Intellectual Property Cases in Canada", June 2012 (co-author); and
Article titled "Avoiding Value Double-Count in Companies with Cross-Holdings" in the American Society of Appraisers' quarterly Business Valuation Review publication, Volume 36, Issue 3, Fall 2017 (author).
Sid has spoken on advanced business valuation at professional seminars organized by The Federated Press. He is also a co-lecturer on business valuation at Kroll's annual global new hire orientation and training.
Prior to Sid's focus on business valuation and financial litigation support services, he spent 3 years at Arthur Andersen and Deloitte & Touche in Toronto focusing on international corporate taxation, both Canadian inbound and outbound.

Sid is also a former member of the Agency Funding Committee for the United Way of Oakville.
---
Expert Services
Expert Services
Independent expert analysis, testimony, advice and investigations for complex disputes and projects.
Intellectual Property Consulting Services
Intellectual Property Consulting Services
Valuation, strategic consulting, investigations, expert witness testimony and transfer pricing services related to intellectual property rights and transactions and information risk.
Intellectual Property Disputes
Intellectual Property Disputes
Strategic consulting, valuation, damage quantification and expert testimony for IP-focused disputes.
Intellectual Property Investigations
Intellectual Property Investigations
Mitigate and respond to patent infringement, IP theft, counterfeiting, and unauthorized gray market diversion, leaks of confidential information and misinformation/disinformation.
Valuation Services
Valuation Services
When companies require an objective and independent assessment of value, they look to Kroll.
Return to top