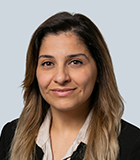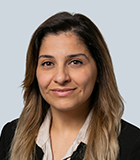 Lisa Antoniou is a director and Co-Head of Loan Operations in the Agency and Trustee Services practice, based in London, with nearly 20 years of experience in banking and commercial lending.
In her current role, Lisa manages a team of 37 members and is actively involved in all aspects of the day-to-day functions and future structure planning. She is currently handling a variety of continuous improvement projects, focusing on improving the team efficiency and aimed at superior service, delivery and execution.
Prior to joining Kroll, Lisa started her career with the National Westminster Bank, where she worked with SWIFT payments, CHAPS, payment inwards and investigations moving onto Global Banking & Markets. She was directly involved with commercial lending for the foreseeable future at the Royal Bank of Scotland Group (RBS). After 11 years at RBS, Lisa joined the Global Loan Agency Services Limited (GLAS) as a loan agency analyst, managing a variety of closings, complex loan servicing, high-volume trading while leading a team.
---
Agency and Trustee Services
Agency and Trustee Services
Leading experience in syndicated, bi-lateral and direct lending transactions in the bond and loan markets.
Return to top