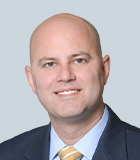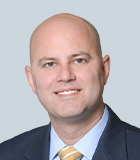 Joseph Minott
Managing Director
Joseph Minott joined Kroll (formerly Duff & Phelps) in 2008. He is a managing director in the Chicago office, where he is part of the Tax Services practice and responsible for management and execution of property tax consulting engagements on a nationwide basis for clients with multi-jurisdictional portfolios. Joseph has more than 15 years of property tax experience.
Joseph's property tax consulting experience has focused on multi-tenant shopping centers, big-box retailers, gaming/hospitality, and commercial airlines. His property tax consulting experience includes pre/post acquisition due diligence, real estate valuation, unitary valuation, appeal management, settlement negotiations, litigation support, and forecast budgeting. Joseph has represented clients in connection with valuation disputes in most of the Midwest, Northeast and Southern United States. Representative clients include: Brixmor Property Group, IKEA North American Services, Whole Foods Market, E.I. DuPont De Nemours, Southwest Airlines, and United Airlines.

Prior to joining Kroll, Joseph served as Property Tax Manager at Macy's, Inc. where he testified and represented the company at tax appeal hearings before state and local taxing authorities. His responsibilities included assessment analysis, property valuation, property tax appeal management, negotiations, and litigation management. Joseph began his state and local tax career with Sears Holdings Corporation where he prepared sales and use tax returns and personal property renditions for various states.

Joseph holds a B.A. from the University of Illinois at Urbana-Champaign. His professional achievements in the property taxation and valuation fields include attaining the Certified Member of the Institute (CMI) designation with the Institute for Professionals in Taxation (IPT) and successful completion of numerous courses with the Appraisal Institute. Joseph is certified as a Level II Assessor-Appraiser with the State of Indiana and a Registered Agent with the State of Tennessee – State Board of Equalization.
---
Valuation
Valuation
Valuation of businesses, assets and alternative investments for financial reporting, tax and other purposes.
Tax Services
Tax Services
Built upon the foundation of its renowned valuation business, Kroll's Tax Service practice follows a detailed and responsive approach to capturing value for clients.
Property Tax Services
Property Tax Services
Kroll engages with companies nationwide to provide independent, innovative and results-driven property tax services.
Return to top