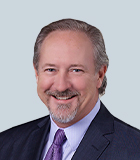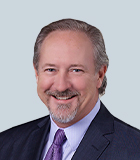 Chris Richter
Managing Director
Chris Richter joined Kroll (formerly Duff & Phelps) in 2007. He is a managing director in the Addison office and part of the firm's Property Tax practice. Chris has over 25 years of experience in property tax and the appraisals of utilities, commercial real estate and personal property.
Prior to joining Kroll, Chris spent 15 years with Rash & Associates, a national tax consulting firm, as Vice President of the Energy & Transportation Group. He began his appraisal and property tax career with the Dallas Central Appraisal District and then joined Cushman & Wakefield in their Real Estate Appraisal Division providing independent valuations on a wide range of properties. Chris currently performs analytics, valuations, leads appeals and provides expert testimony on property tax valuations for clients in multiple industries.

His market expertise extends into state and local property tax issues, property tax compliance and valuations of complex specialty properties. He serves as the Firms property tax leader for the restaurant industry and manages our property tax compliance center in Addison, Texas. Chris also represents clients in the food distribution, office, retail, general utility, cable, telephony, electric distribution, transmission, generation, fluid pipeline and gas transmission businesses.

Chris has also been a speaker and panelist at the Wichita State University conference on the Appraisal for Ad Valorem Taxation and routinely testifies before appraisal review boards and boards of equalization around the country concerning property tax valuations.

Chris holds a B.B.A. in finance from Texas Christian University. He is also a certified senior property tax consultant and a registered property tax agent.
---
Valuation
Valuation
Valuation of businesses, assets and alternative investments for financial reporting, tax and other purposes.
Tax Services
Tax Services
Built upon the foundation of its renowned valuation business, Kroll's Tax Service practice follows a detailed and responsive approach to capturing value for clients.
Property Tax Services
Property Tax Services
Kroll engages with companies nationwide to provide independent, innovative and results-driven property tax services.
Return to top