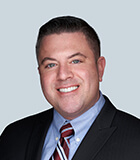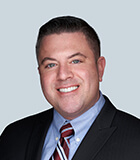 Chris Palmadesso
Senior Manager
Christopher Palmadesso is a senior manager in the Enterprise Security Risk Management practice, based in New Jersey. Christopher leverages over 18 years of experience in threat management, vulnerability assessments, and business continuity management.
Prior to joining Kroll, Christopher served as the senior intelligence representative for the DHS Chief Intelligence Officer in Vermont and New Jersey, where he oversaw suspicious activity awareness training, quality control, intelligence oversight governance compliance, and policy/programmatic standards for nearly 1.5 million first responders responsible for detecting, vetting and reporting terror or other criminal activity. In addition, during this tenure, he worked at the United States National Counterterrorism Center as a senior intelligence analyst and briefer. Christopher focused on coordinating various national security threat streams with multidisciplinary partners from state and local public safety, The National Network of Fusion Centers, The Federal Bureau of Investigation Joint Terrorism Task Forces, The International Association of Fire Chiefs, DHS components, private sector partners and The National Security Council.
As a respected intelligence coordinator and liaison, Christopher provided tactical, operational and strategic intelligence operational support during multiple national special security events. He additionally provided threat management and continuity operations for multiple natural disasters and terrorism events.
Christopher has cultivated a network of information and intelligence consumers among federal, state, local, territorial, tribal and private entities, supporting intelligence requirements, for example, at the Boston Marathon Bombing Incident, Superbowl XLVII, and 2015 Papal Visit to New York and Philadelphia.
Christopher coordinated, authored and briefed nearly 200 high-value actionable intelligence products, assessments and bulletins, informing risk decision-making for senior public and private sector executives. These intelligence products resulted in strategic policy decisions like the governor of Vermont's proposed cyber resiliency initiatives, the governor of New Jersey's increased security patrols around NJ military installations, and personal drone usage legislation by the Federal Aviation Agency that promoted public safety resiliency nationwide.
Christopher started his career as a commissioned officer in the United States Coast Guard (USCG). He spent eight years on active duty as Maritime Safety and Security Team Law Enforcement Training and Federal Boarding officer, completing over 2,000 national security boardings and participating in port security operations, such as responses to Hurricane Katrina.
Christopher was awarded with USCG Achievement Medal, USCG Team and USCG Special Operations Award. Further, he has been recognized with U.S. Armed Forces Service Medal and Vermont State Police Directors Award for his exemplary service.
Christopher received a B.S. in political science from the Catholic University of America. He also holds an M.A. in history from Norwich University in Northfield and is currently working on completing an MBA with a focus on IT Strategic Management.
---
Enterprise Security Risk Management
Enterprise Security Risk Management
Kroll's Enterprise Security Risk Management practice provides expert guidance and advisory services to our global clientele as they navigate the most challenging and emerging security and threat-related issues.
Return to top