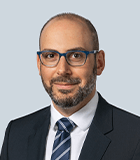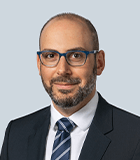 Aaron Ghobarah is a director within the Financial Services Compliance and Regulation Practice, based in the London office. He specializes in advising financial services firms on prudential risk: capital, liquidity and risk governance.
Prior to joining the firm, Aaron worked at the FCA and its predecessor, the FSA, for 10 years, specializing in prudential risk across a variety of business models within the financial services sector. Most recently, Aaron helped oversee and contributed to the development of the FCA's framework for assessing adequate financial resources (Finalized Guidance 20/1) and provided input on the UK's implementation of the new Investment Firm Prudential Regime. Additionally, during his time at the regulator, he was responsible for the oversight of prudential reviews and the provision of technical advice across a range of financial services firms from small domestic to major international firms including: platforms, trading firms, brokers, payments firms, e-money firms, wealth managers, asset managers, peer-to-peer firms, non-bank lenders, and insurance brokers.
Aaron received an MBA from Manchester Business School, University of Manchester, and an honours BA in economics from the University of Toronto.
---
Financial Services Compliance and Regulation
Financial Services Compliance and Regulation
End-to-end governance, advisory and monitorship solutions to detect, mitigate, drive efficiencies and remediate operational, legal, compliance and regulatory risk.
UK Compliance Services
UK Compliance Services
Comprehensive compliance and regulatory support for FCA authorized firms.
Return to top