2018 European Goodwill Impairment Study
In 2013, Kroll launched its inaugural study of goodwill impairments recognized by European companies.
Now in its sixth edition, the 2018 European Goodwill Impairment Study (2018 Study) continues to examine general goodwill impairment trends across countries and industries within the European market.

The analysis in the 2018 Study is focused on companies in the STOXX® Europe 600 Index, which is comprised of large, mid and small capitalization companies across just under 20 countries of the European region, for the 2013-2017 calendar years.
In the fifth anniversary edition, Kroll introduced new analyzes of goodwill impairment trends and statistics for benchmark stock market indices in four countries. This year's sixth edition expands that effort to include Italy, which means the following five indices are now analyzed:
CAC 40 in France
DAX in Germany
FTSE MIB in Italy
IBEX 35 in Spain
FTSE 100 in the United Kingdom
Key general highlights from the 2018 study include:
Total goodwill impairment recorded by European listed companies in the STOXX® Europe 600 dropped 35% to €18.5 billion in 2017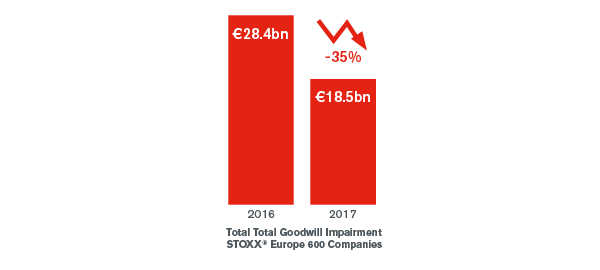 The number of goodwill impairment events fell by 9%, from 121 in 2016 to 110 in 2017. Hence, the average impairment amount per event declined by 28%, from €234 million to €168 million over the same period.
2017 saw the lowest level in aggregate goodwill impairment for the STOXX® Europe 600 since 2010, the onset of the euro sovereign debt crisis. The amount of goodwill impairment and number of impairment events for the last five years is summarized below.

In 2017, the top 10 goodwill impairments accounted for two-thirds of the aggregate goodwill impairment of $18.5 billion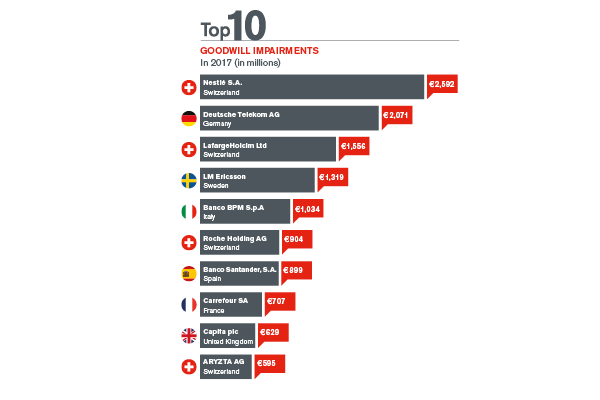 4 out of the 8 highlighted countries within the STOXX® Europe 600 saw a decline in the proportion of companies recording a goodwill impairment in 2017. Germany saw the largest increase, while Italy showed the largest decrease.



Key industry highlights from the 2018 Study include:
Half of the ten industries analyzed in the study saw their aggregate goodwill impairment amounts decrease
The top three industries with the most significant drop in goodwill impairment amounts in 2017 in order of magnitude are (€ billions):

Financials & Real Estate (€8.1 to €3.4),
Telecommunication Services (€7.0 to €2.4) and
Consumer Discretionary (€5.0 to €0.9)

Consumer Staples saw a sharp increase in aggregate goodwill impairment relative to 2016, becoming the top industry on the list in 2017

For a second straight year, Energy saw the largest drop in the number of companies with goodwill recording a goodwill impairment, as the recovery in oil prices continued in 2017

2018 European Goodwill Impairment Study
/en/insights/publications/valuation/2018-european-goodwill-impairment-study
/-/media/assets/images/publications/featured-images/2019/goodwill-impairment/2018-european-goodwill-impairment-study.jpg
2019-03-07T05:00:00.0000000
publication
{796A58E9-D284-46A9-96EC-56B0D27685A6}
{1A04249C-4024-4400-89D0-C60CB8EC39ED}
{B2556746-8BC1-425F-8842-83AEAC760EB3}
{70E25357-B690-49B8-948F-958DAD26DCD4}