Regulatory Due Diligence Services Case Studies
Kroll has a specialist due diligence team, which provides significant experience across the global investment management industry. We provide acquiring individuals and organizations with M&A regulatory due diligence to give a deeper understanding of the regulatory risks of an acquisition target. We also provide operational due diligence reviews to investors and fund managers to assess a range of operational risks across the firm and its funds.


Due Diligence Report on Sale of International Corporate Services Provider
Due diligence is an essential part of the sale process, and Kroll clients rely on our regulatory and compliance expertise to give assurance to prospective buyers. This is what Kroll delivered when we were engaged to assist with the sale of a large corporate services provider with offices in the Crown Dependencies and Caribbean.

Kroll's Channel Islands-based team acted as a single point of contact for the client, while the Kroll international team combined onsite office visits with comprehensive governance, compliance and risk frameworks to produce a detailed report.

Working closely with personnel from the firm and with local jurisdictions, Kroll benchmarked each office against both internationally accepted best practices and a relevant peer group within each jurisdiction. The Kroll team also provided real-time independent assessments and feedback to senior client personnel, identifying areas of strength or weakness that would ultimately be featured in the report.

Kroll produced a clearly structured, practical report and the team then held calls with investors to address areas of concern or interest.

Project Outcomes

As a result of Kroll's work:
The firm was supplied with a detailed report, which it was able to provide to its advisers, potential investors and financial backers
Kroll's reporting formed part of a suite of due diligence reports, which enabled a successful transaction to take place
Malin Nilsson
Malin Nilsson
Managing Director
Financial Services Compliance and Regulation
Jersey
Sebastien Petsas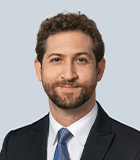 Sebastien Petsas
Managing Director
Financial Services Compliance and Regulation
London
---
Financial Services Compliance and Regulation
Financial Services Compliance and Regulation
End-to-end governance, advisory and monitorship solutions to detect, mitigate, drive efficiencies and remediate operational, legal, compliance and regulatory risk.
Return to top