Be Prepared | IOD and Duff & Phelps
Directors are under ever closer scrutiny. Duff & Phelps and The Institute of Directors have partnered to produce a practical guide for directors on their fundamental duties.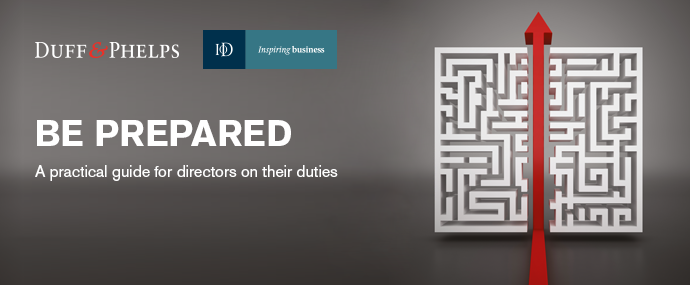 The pocket guide, which all IoD members will have received in March can be downloaded here.
"Being a company director is an endlessly varied, stimulating and fulfilling occupation. To be at the pinnacle of an organization, and be able to design, refine and implement a vision and a strategy is a privilege so many people aspire to throughout their careers, and so few achieve" - Simon Walker, Director General – Institute of Directors.
This guide serves as a good introduction to how directors can navigate the pressures of responsibility. The breadth of topics covered gives an indication to just how demanding the role of the modern director is. While building a brand and winning new customers, those round the boardroom table must also have a commanding grasp of their most fundamental duties. The board is responsible for the health of the business, and the list of issues directors need to be aware of seems to get longer by the year. This guide is a great place to start.
---
Expert Services
Expert Services
Independent expert analysis, testimony, advice and investigations for complex disputes and projects.
Return to top