Increasing Concern for ABC Regulatory Enforcement in the Year Ahead
In Kroll's analysis of benchmarking survey data from August 2021, nearly 90% of survey respondents believed their ABC risks would increase or stay the same in 2022 compared to 2021. Looking forward to the next 12 months, 62% of respondents also have concerns of what may be on the regulatory horizon. The majority of these respondents cited their expectations for a stricter and increased regulatory environment as the main source of their concern.
In the U.S., companies have followed the Biden administration's actions during its first year in office to understand how its anti-bribery and corruption agenda could impact the regulatory landscape. The administration has continued their public commitment to fighting corruption on a global scale as specific policies have begun to take shape. In his first significant action to fulfill this commitment, President Biden launched an anti-corruption initiative in June 2021 that declared combatting corruption as a core national security priority.1 By linking corruption to national security, the administration continues the long-argued claim that corruption destabilizes democratic processes and supports rogue states. The June 2021 directive began an interagency review to develop the administration's "whole of government approach," which is supported by a promise to create a unified set of policies to fight corruption both domestically and abroad. The intention is to localize the directive into each government agency's agendas to assess and bolster their specific efforts in the anti-corruption fight.
However, as with all U.S. presidencies that start their term in a highly politicized landscape with seemingly never-ending domestic challenges, we can likely expect an ambitious anti-corruption agenda to face roadblocks at home and abroad. Progress may be slow, but many observers, including Kroll's survey respondents, expect the regulatory pace to quicken. The Pandora Papers investigation, the largest leak of offshore records to date, has further exposed the shroud around the beneficial owners of shell companies, trusts, foundations and similar entities and their use in not only tax mitigation but also in the hiding of financial crimes in certain low- or no-tax jurisdictions, including certain U.S. states. The recent revelation has renewed public interest in combatting financial crimes, and such public interest may continue as resulting investigations develop further. The introduction of bipartisan legislation such as the ENABLERS Act in response to the Pandora Papers could also be the kickoff of a reinforced focus to strengthen anti-money laundering laws and the relevant regulatory powers from Congress.2 Despite the 2020 Anti-Money Laundering Act (AMLA), new regulations to enforce effective compliance on investment managers have yet to be enacted. Legislative progress will largely be dependent on sustained public attention and focus from legislators, as with past offshore leaks revealing the continued use of the U.S. as a shelter for illicit funds.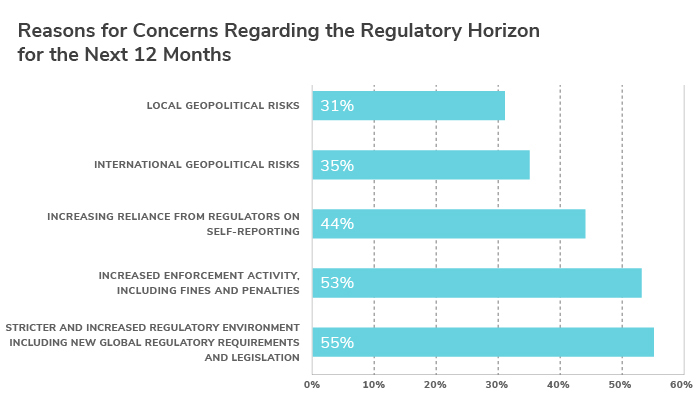 Of the 62% of respondents with concerns of what may be on the regulatory horizon in the next 12 months, the anticipation of stricter and increased regulatory requirements was the most significant concern shared across all four of the surveyed regions.
European respondents notably were the least concerned with regulatory developments over the next 12 months at only 40%. Similarly, only 16% of European respondents were concerned with an increased reliance on self-reporting despite the implementation of the EU Whistleblower Directive. However, progress may nonetheless continue. Forthcoming changes in EU AML/Countering the Financing of Terrorism (CFT) legislation (as proposed by the European Commission in July 2021) may lead to increased enforcement action and larger fines issued within the EU in the coming years.3
Respondents in Asia Pacific might be reflecting on China's sustained efforts to improve whistleblowing and aggressively enforce its anti-corruption laws. Recent laws such as the Supervision Law will strengthen President Xi's anti-corruption campaign over the upcoming months.4 In June 2021, China also further complicated the complexity of compliance officer responsibilities by passing a new law that empowers the State Council to enact sanctions against those that implement sanctions against China. This codification of counter-sanctions leaves foreign corporations with the dilemma of which sanctions regimes they are required to comply with. Developments also continue elsewhere in the region. For example the Australian Senate has continued its gradual reform of the country's anti-money laundering and counter-terrorism financing (AML/CTF) legislative framework.
In Latin America, respondents had similar levels of concern as Asia Pacific respondents for what may be on the regulatory horizon. In Brazil, 2021 saw the country's anti-corruption progress shaken by a dramatic kickback scandal involving health ministry officials and vaccine procurement that may have impacted the presidential election next year. Central America has been a particular focus for U.S. regulators following the Biden administration's naming of corruption as a core national security priority. Even prior to the White House initiative, Central American public officials have been targeted with a range of anti-corruption measures, including sanctions pursuant to the Magnitsky Act.5 With the Biden administration also seeking to strengthen diplomatic ties with many Latin American countries, most plans for future civil society and private sector investments intend to be tied to anti-corruption and judicial reforms.
In a multipolar world with some regulatory regimes progressing at different paces, some collaborating, and others competing against each other, ABC regulatory complexity will continue. Combined with the belief from 47% of respondents that their bribery and corruption risks will increase in 2022, ABC compliance programs will need to continue their dedication to not only comply with regulatory expectations but also protect their organizations from illicit activity.
Sources
1. https://www.whitehouse.gov/briefing-room/presidential-actions/2021/06/03/memorandum-on-establishing-the-fight-against-corruption-as-a-core-united-states-national-security-interest/
2. https://malinowski.house.gov/media/press-releases/representatives-malinowski-salazar-cohen-and-wilson-introduce-bipartisan
3. https://www.kroll.com/en/insights/publications/financial-compliance-regulation/global-enforcement-review
4. http://english.www.gov.cn/news/topnews/202109/21/content_WS614915f6c6d0df57f98e09c6.html
5. https://www.kroll.com/en/insights/publications/compliance-risk/engel-list-look-into-central-americas-corruption-risks

---
AML Compliance Due Diligence
AML Compliance Due Diligence
Kroll helps clients navigate the complexities of today's regulatory environment through a broad suite of anti-money laundering compliance screening and due diligence offers.
Compliance Program Consulting
Compliance Program Consulting
Kroll is trusted by companies worldwide to help establish policies and programs aimed toward preventing fraud and complying with anti-money laundering (AML) and anti-bribery and corruption regulations.
Return to top