Corporate Structure Simplification (CSS) is a strategic process to rationalize a complex group structure by releasing capital, increasing efficiency and reducing financial and administrative burden.
Large corporate groups often have entities within their corporate structure that are surplus to strategic requirements, duplicate activities of other entities or have been dormant for some years. A rationalization process to streamline the structure promotes good corporate governance and can improve attractiveness to potential buyers and investment groups. It can be especially useful in pre- and post-transaction scenarios to improve tax efficiency.

CSS is applicable to all types of businesses, whether owner managed, national or international. Kroll has the expertise, experience and ability to tailor its service to suit your group's long-term strategic requirements, utilizing restructuring techniques to produce the optimal outcome.

Simplicity is Key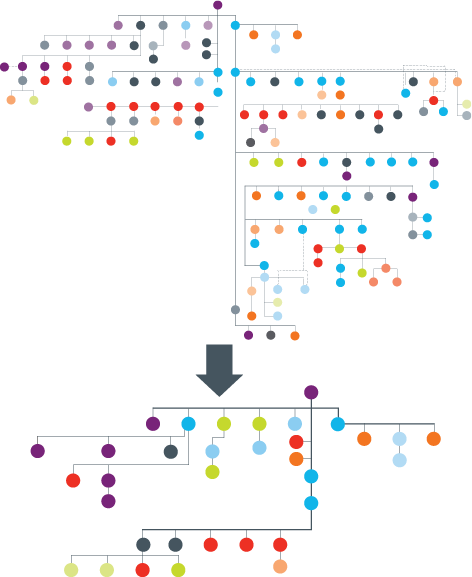 Note: Colored dots represent different geographical jurisdictions.
Benefits to Your Firm
Unnecessary Cost Avoidance
Companies House Filings – statutory accounts and confirmation statements
Taxation – corporation tax filings, country-by-country reporting, transfer pricing, tax audits and VAT returns
Administrative Burden – accounting, compliance and regulatory reporting
Management Time – distraction from core business
Professional Costs – tax compliance, legal and audit

Risk Management
Improves transparency, accountability and governance
Creates certainty of liabilities, including contingent, employee and landlord claims
Manages tax risks and opportunities
Provides comfort of independent review
Reduces the risk of reinstatement
Increases structural and jurisdictional alignment
Reduces burden of IFRS and iXBRL conversion
Operational Efficiency
Optimal group structure design and implementation
Return of share capital and assets, improving dividend flows
Eliminates post-acquisition duplication
Allows release of intercompany balances and reserves
Improves investor confidence and reputation
Tax planning and pre-transactional structuring
Exit planning
Why Kroll?
Our first-step 'Identification and Assessment' stakeholder workshop is a personalized and tailored approach which ensures each client's needs are met and delivers optimal results for your group
We can offer multiple solutions to clients from technical advisory, to full project management and implementation
Our experienced team undertake CSS projects and have experience on both national and international scale
We have a flexible fee structure, which can be aligned to suit the level of our involvement in the project
We have broad industry expertise, including leisure, financial services, real estate, industrials/manufacturing and retail
We have a strong international reputation for delivering results in a timely and efficient manner
Our global restructuring professionals and tax specialists work together, both within the firm and through intermediary partners in almost every jurisdiction worldwide
We have significantly reduced conflict compared to our competitors in the provision of project management services
/en-ie/services/restructuring-advisory/corporate-structure-simplification
/en-ie/-/media/feature/services/restructuring-advisory-kroll-ie/restructuring-advisory-desktop-banner.jpg
service