Sell Side Advisor
Trinity3 Technology has Been Recapitalized by Rotunda Capital Partners

has been recapitalized by

Karan Kapoor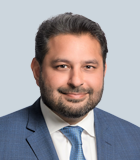 Karan Kapoor
Managing Director and Co-head of Kroll's Technology M&A Practice
---
In November 2019, Rotunda Capital Partners ("Rotunda"), a lower middle-market private equity firm, acquired a majority interest in St. Paul, Minnesota-based Trinity3 Technology ("Trinity3"), a leading provider of student computing solutions, warranty services and enterprise products for the K-12 education market.
Exclusive financial advisor to Trinity3 in connection with the transaction.
About Trinity3 Technology
Trinity3 Technology, a member of the 2019 "Inc. 5000" list of fastest-growing private companies in America, is wholly immersed in serving the technology needs of the education market. The company offers custom-built solutions–including student computing, warranty services and enterprise products–to suit each customer's unique needs. Backed by an experienced team of sales, support, and technical professionals, Trinity3 delivers exceptional value for both public and private educational institutions to maximize budgets and technology access for students. What makes Trinity3 Technology unique is not just the products and services offered but the people who stand behind them. Each member of Trinity's team shares the same motto, "With Trinity3, it's personal." Winthrop & Weinstine served as legal advisor to Trinity3.
About Rotunda Capital Partners
Rotunda Capital Partners is a private equity firm that invests equity capital in established and profitable lower middle market companies. The firm uses a rigorous approach to identify market-leading companies with identifiable growth opportunities and capable management teams in targeted sectors, including distribution, logistics, specialty finance, and business services. Rotunda Capital partners with management to build data-driven growth platforms. Since 2009, Rotunda Capital has completed 13 platform investments and realized five exits. The partners of Rotunda Capital actively provide guidance and draw on deep industry and financial relationships to contribute to the successful execution of Rotunda's companies' strategic plans. Womble Bond Dickinson served as legal advisor to Rotunda.
---
Return to top