Sell Side Advisor
Kroll's Consumer M&A Advisory Team Advised DSD Merchandisers, LLC on Its Sale to American Nuts, Inc., a Portfolio Company of Gauge Capital, LLC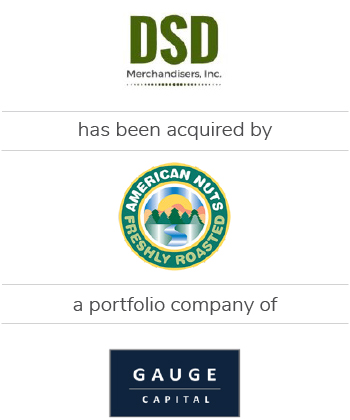 On March 11, 2022, DSD Merchandisers, LLC (DSD) a category manager, merchandiser and distributor of high-quality natural and organic dry bulk foods and ingredients, completed its sale to American Nuts, Inc., a portfolio company of Gauge Capital, LLC.

The Consumer Investment Banking practice of Kroll, served as an exclusive sell-side M&A advisor to DSD Merchandisers in connection with the transaction.

About DSD Merchandisers, LLC
Founded in 1995, DSD Merchandisers is a leading provider of premier category management, merchandising and distribution solutions of high-quality natural and organic ingredients/dry food products. DSD has created an effective model in the market by combining deep sourcing expertise along with a significant, scalable route-based delivery and merchandising service offering. DSD offers a comprehensive product offering of over 18 different categories and is strategically tailored to natural, organic, non-GMO and on-trend items such as ingredients and snacks, that align with current consumer preferences. The company is headquartered in Livermore, CA. Brian Cave Leighton Paisner served as legal counsel to DSD.

About American Nuts, Inc.
Founded in 1989, American Nuts, Inc. is a supplier and processor of nuts, seeds and dried fruits based in Sylmar, CA. The company provides custom roasting, seasoning and packaging solutions for nuts and dried fruits to the bulk retail, portion control retail and the industrial and food service ingredient markets.

About Gauge Capital, LLC
Gauge Capital, LLC is a private equity firm founded in 2013 by Drew Johnson and Tom McKelvey, that specializes in management buyouts, recapitalizations, divestitures and growth investments in lower middle market companies. It seeks to invest in growing services and technology-enabled companies with a focus on healthcare, business, industrials, food and consumer services. The firm typically invests in companies based in the United States or Canada. Gauge Capital is headquartered in Southlake, TX. Hunton Andrews Kurth, LP served as legal counsel to Gauge Capital, LLC.
---
Mergers and Acquisitions (M&A) Advisory
Kroll's investment banking practice has extensive experience in M&A deal strategy and structuring, capital raising, transaction advisory services and financial sponsor coverage. Duff & Phelps acquired Kroll in 2018 and unified under the Kroll brand in 2020.
Comprehensive Due Diligence Solution
Our Comprehensive Due Diligence solution helps clients minimize risks and make the most informed business decisions. We support in the areas of tax, compliance and regulatory, ESG, operations/strategy, M&A, financial and accounting, investigations, disputes and cyber/IT risk.
Transaction Advisory Services
Kroll's Transaction Advisory Services platform offers corporate and financial investors with deep accounting and technical expertise, commercial knowledge, industry insight and seamless analytical services throughout the deal continuum. Duff & Phelps acquired Kroll in 2018 and unified under the Kroll brand in 2020.
Fairness and Solvency Opinions
Duff & Phelps Opinions is a global leader in Fairness Opinions and Special Committee Advisory, ranking #1 for total number of U.S. and global fairness opinions over the past 10 years, according to Refinitiv cumulative data from 2013-2022.
Return to top