Sell Side Advisor
Kroll's Industrials Investment Banking Practice Advised Baker Manufacturing Company, LLC on Its Sale to Blue Sage Capital, L.P.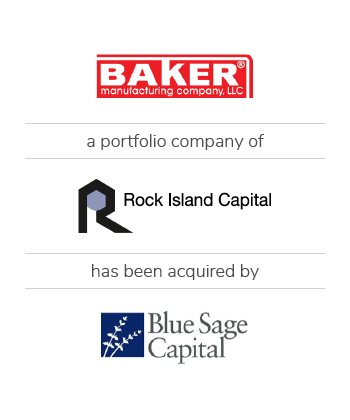 On July 5, 2022, Baker Manufacturing Company, LLC ("Baker" or the "Company"), a portfolio company of Rock Island Capital ("Rock Island"), was acquired by Blue Sage Capital, L.P. ("Blue Sage").
The Industrials Investment Banking practice of Kroll served as the exclusive financial advisor to Baker Manufacturing, LLC in connection with the transaction.
About Baker
Baker Manufacturing was founded in 1873 and is a manufacturer and supplier of residential, industrial, municipal, and environmental water well equipment and accessories, as well as specialized rotary gear pumps and ductile and gray iron castings. Over decades of experience, Baker has carved out a leadership position in several niche markets and established a portfolio of well-known products, including pioneering the pitless well adapter. Baker is headquartered in Evansville, WI with additional locations in Bechtelsville, PA, Largo, FL and Prairie du Sac, WI. McDermott Will & Emery LLP served as legal counsel to Baker.
About Rock Island
Rock Island Capital invests in companies in traditional manufacturing, distribution or service industries with proven business models and experienced management needing capital to achieve their objectives. Rock Island makes majority and minority equity investments in companies with a target enterprise value of $10 - $150 million. Rock Island Capital is based in Oak Brook, Illinois.
About Blue Sage
Blue Sage Capital is an Austin, Texas-based private equity firm that has been investing in profitable, growing, lower middle-market companies since 2002. Blue Sage currently has over $400 million of assets under management and seeks to partner with founders, families, and management teams as the first round of institutional capital for businesses that enjoy leadership positions in niche manufacturing, environmental solutions, or specialty services industries. Blue Sage typically invests $20 million to $40 million in control buyout investments and recapitalizations of companies with $20 million to $125 million of revenue. Blue Sage was represented in the transaction by Queen Saenz + Schutz PLLC (Legal), Cherry Bekaert (Accounting, Tax, IT), and USI Insurance Services (Insurance).
---
Mergers and Acquisitions (M&A) Advisory
Kroll's investment banking practice has extensive experience in M&A deal strategy and structuring, capital raising, transaction advisory services and financial sponsor coverage. Duff & Phelps acquired Kroll in 2018 and unified under the Kroll brand in 2020.
Fairness and Solvency Opinions
Duff & Phelps Opinions is a global leader in Fairness Opinions and Special Committee Advisory, ranking #1 for total number of U.S. and global fairness opinions over the past 10 years, according to Refinitiv cumulative data from 2013-2022.
Transaction Advisory Services
Kroll's Transaction Advisory Services platform offers corporate and financial investors with deep accounting and technical expertise, commercial knowledge, industry insight and seamless analytical services throughout the deal continuum. Duff & Phelps acquired Kroll in 2018 and unified under the Kroll brand in 2020.
Comprehensive Due Diligence Solution
Our Comprehensive Due Diligence solution helps clients minimize risks and make the most informed business decisions. We support in the areas of tax, compliance and regulatory, ESG, operations/strategy, M&A, financial and accounting, investigations, disputes and cyber/IT risk.
Private Capital Markets – Debt Advisory
Kroll has extensive experience raising capital for middle-market companies to support a wide range of transactions. Duff & Phelps acquired Kroll in 2018 and unified under the Kroll brand in 2020.
Return to top