/-/media/kroll/images/services/cybetdetecter-product-suite/surfaceweb/cyberdetecter-surfaceweb-logo.ashx

Prospective customers, investors and employees are searching for information about your organization. What impression is your online reputation giving?
Get a Demo
SurfaceWeb Monitoring Helps Protect

Brand Reputation

Executive and Employee Reputations

Location / Events
The surface or open web includes all information that is accessible through a conventional search engine like Google or Bing. Our advanced tools and processes can monitor numerous online platforms, blogs, news outlet comment boards, message boards, etc., capturing a wide range of publicly accessible information to deliver actionable intelligence.
Kroll merges market leading social media monitoring technology to deeply scan popular social media and other surface web platforms with unrivaled threat intelligence expertise to enable thorough oversight of potential cyber and reputational threats.
Extensive Digital Risk Protection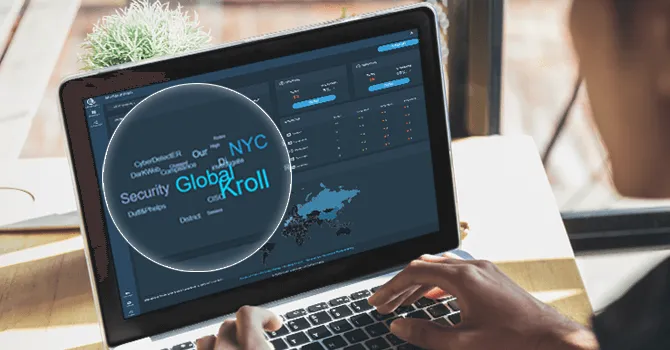 Monitors What You Can't Control
CyberDetectER SurfaceWeb monitors what you can't control: the sentiment of social media posts and online mentions. It's not just the fact your organization is being talked about, it's the tone of the posts that can impact your organization. Is the review positive or negative? Has the sentiment of your mentions changed drastically today? What are your employees saying about their workplace? How will potential investors view a news article?
Including CyberDetectER SurfaceWeb in your threat intelligence strategy can alert your security and communication teams to anomalies in your web presence; react faster and with more context; and view individual mentions as well as sentiment analysis trends.
View Actual Mentions
Your team can view the source of your organization's mentions, as well as the sentiment: positive, negative or neutral.
Geo-Aware
See where your public mentions originate for insight into your popular markets while allowing your security team to recognize anomalies that may indicate a threat or bad actor.
Combining Experience With Advanced Search
With more than 150 years of combined experience with cybercrime investigations as well as threat intelligence, Kroll experts can effectively recognize threats, provide meaningful assessments of exposure and vulnerabilities, and offer actionable advice.
Get a Demo
We will use this information to respond to your inquiry and process your data in accordance with our privacy policy.
Thank you
One of our experts will contact you shortly.
Sorry, something went wrong :( Please try again later!
Please try again later!
CyberDetectER Endpoint
24x7 threat detection, hunting, and monitoring powered by A.I. and enhanced by elite responders.
CyberDetectER DarkWeb
Learn, assess, and address your organizations' risk exposure on the dark web and social media.