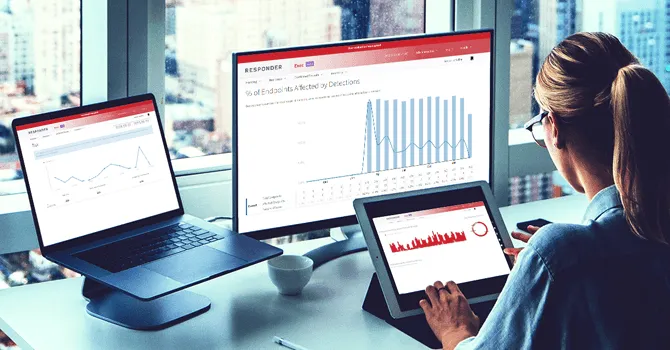 Mature your cyber security with unparalleled visibility and constant protection. Kroll Responder handles every step, with 24x7 managed detection and response services fueled by threat hunting and superior incident response to deliver best-in-class endpoint security.
Get a Demo
/en/services/cyber-risk/managed-security/kroll-responder
/-/media/kroll/images/services/cybetdetecter-product-suite/kroll-responder/kroll-responder.jpg
service
Instantly Mature Your Cyber Security Program
Att&ckTM Techniques Observable (of 223)
Reduction in Mean Time to Respond
Reduction in Risk Per Endpoint Over Time
Incidents Handled Per Year by Elite Responders
Go Beyond Endpoint Security with Proactive Hunting and Rapid Response
After four decades of global threat investigations, we know a strategic response is the best way to successfully mitigate any incident. Kroll Responder managed detection and response (MDR) merges rich telemetry, sophisticated detection and triage engines from partners like Red Canary with Kroll's frontline tools and expertise from responding to thousands of intrusions a year to deliver best-in-class endpoint security. Our in-depth approach to MDR enables you to own the "R" in MDR.
Explore Kroll Responder at work:
Best-in-Class Endpoint Security
When cyber threats creep in, a fast and thorough response is crucial. Think about it like this:
What happens when there's a fire in your building?
An alarm alerts you to the danger.
Emergency operators connect you to help.
And the firefighters snap into action to put out the flames.
When it comes to MDR solutions, Kroll Responder is the alarm, operator and fire department all rolled into one. Plus, we're also there to help make sure the fire never catches in the first place—responding to the slightest spark.
For other MDR solutions, "response" means little more than a heads up—leaving you to figure out your exposure and deal with the aftermath. Powered by Kroll's elite incident response team, Responder leaves no stone unturned.
Best of all, Responder's bespoke approach instantly matures organizations of all sizes. We complement any in-house security resources, freeing up precious time for you to focus on other aspects of your security program.
Investigation
Validate and assess initial risk, scope and impact of threat
Analyze relevant malware and behaviors
Collect additional forensic evidence
Consult intelligence sources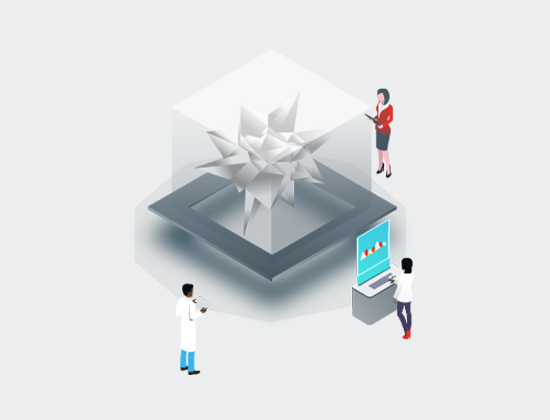 Containment
Execute automated and custom playbooks to counter threat
Hunt for related threat activity
Identify and assess root cause
Communicate status to client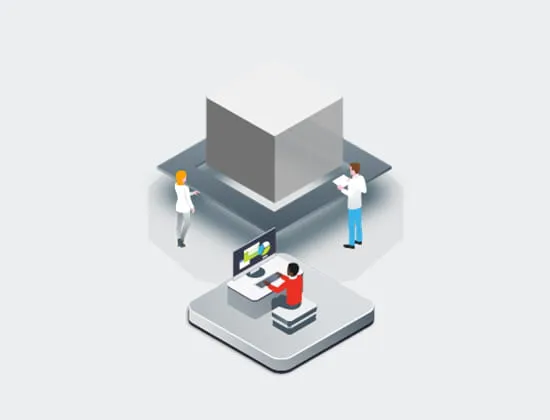 Eradication and Post-Incident
Complete and validate remediation of threat
Provide final assessment and recommendations for future
Update detection engine, playbooks and intelligence sources as applicable
Meaningful metrics and reporting
Executive and technical briefings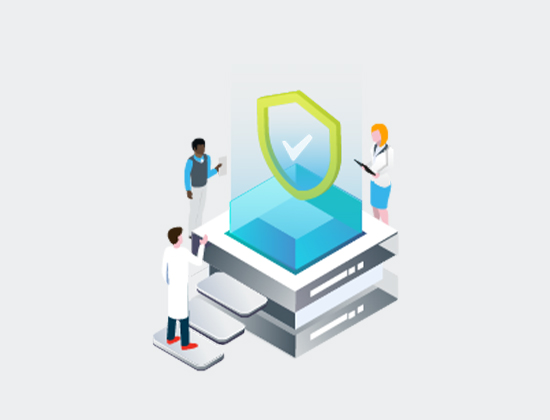 End-to-End Risk Management
Today's complex security and privacy landscape demands wider risk management expertise to minimize the legal, reputational and financial consequences of a cyber security incident. Unlike other managed detection and response providers, Kroll Responder provides seamless access to additional capabilities, including:
Global intelligence and investigation services for physical and cyber risks
Litigation support and expert testimony
Assessment, testing and advisory services including virtual CISO
Data breach notification, call center, and monitoring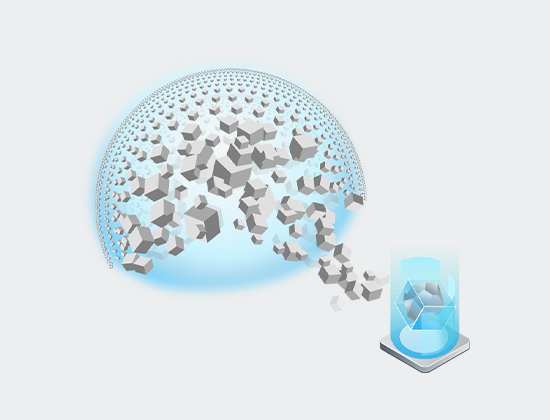 Extensive Coverage (including Linux and MacOS)
Responder gives you access to a variety of sensors capable of thoroughly monitoring current and legacy versions of Windows, MacOS and even Linux operating systems—whether in house, at home or in the cloud. Many other solutions provide zero or limited coverage of older systems.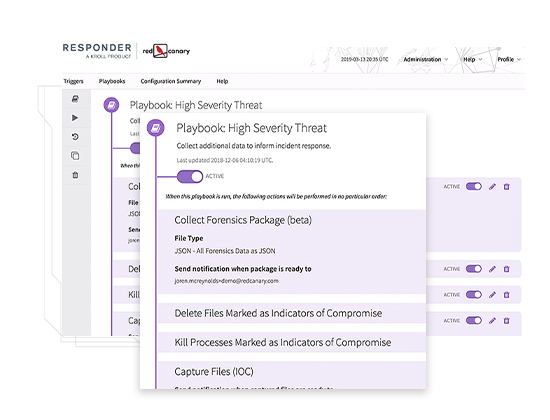 Automate Your Response with Playbooks Optimized by Experts
When an attack is detected, every moment counts. Responder combines the best of human response and threat intelligence with security orchestration, automation and response (SOAR) capabilities to contain and mitigate threats automatically. As both your organization and cyber threats evolve, we will customize these playbooks to fit your program's needs and advance protection.
Augment Your Security Operations with 24x7 Hunting and Response
When you're working, and even when you aren't, we're working in the background. We handle over 2,000 incidents a year, and we bring that frontline expertise to accelerate your security maturity, virtually overnight, giving you the support of expert investigators and unrivaled visibility into your systems.
We Detect
Rich endpoint telemetry goes through our sophisticated detection and triage engine for enhanced visibility and proactive hunting.
We Hunt
Potential threats and IOCs are sent to our investigators for triage. There, our team will go live in your systems to go deeper into the incident to validate threats and determine root causes.
We Contain
Our team will isolate compromised endpoints to stop attacks and curtail potential spread, offering guidance to you in the process.
We Remediate
Once a threat has been contained, we will eradicate any malware or bad actors to be sure your endpoints are secure and that there are no lingering threats to your systems from this incident.
We Optimize
Even after we've successfully responded to an incident, we'll continue to aid you in next steps with new recommendations based on our root cause analysis and new automated playbooks to harden your systems against future attacks.
360-Degree Visibility to See and Stop Hidden Threats
While we're always working behind the scenes, our processes aren't happening behind closed doors. We meet with your team on a regular basis to provide status and discuss recent events and trends. And with Responder, you'll have 24x7 portal access to all the information on the status of your environment including:
Metrics and reports
Remediation actions (like block, isolate and ignore)
An impact report with executive and expert-level intel on trends, insights and threats
Automated playbooks to defend your systems and/or collect forensic packages
Your business is growing. So is your cyber footprint. Protect both with Kroll Responder.
Get a Customized Kroll Responder Demo