CyberDetectER® DarkWeb
With tens of thousands of potential threats lurking in remote corners of the deep and dark web, how can you know if your organization's sensitive information is at risk, or if you're being targeted by cyber attackers? Discover, analyze and address your organization's global exposure on the dark web and social media with CyberDetectER Dark Web.
CyberDetectER® DarkWeb continuously monitors the deep and dark web, as well as file sharing networks, IRC channels and other forums to deliver an extensive view of your organization's exposure – from business credentials to trade secrets to confidential financial documents, and more, helping reduce the risk of costly cyber-attacks and reputational damage.
Uncover Risks to Your Sensitive Data, Staff, Brand and Infrastructure

Credential Monitoring

Executive/VIP Exposure

IP and Brand Protection

Third-Party Risk Management
Over 6.5TB of deep and dark web data is ingested daily by patent-protected technology and added to Kroll's secure data store indexed over 14 years. Kroll analysts work with you to identify your unique set of keywords to customize monitoring based on your organization's needs and potential threats. Once exposed data is identified, AI algorithms filter and prioritize for evaluation by Kroll's Intelligence analysts, providing a powerful combination of technology and human analysis to reduce false positives.
Learn more about how CyberDetectER DarkWeb leverages AI to proactively detect, track, and minimize data loss threats

See how dark web monitoring can be a strategic advantage for law firms and their clients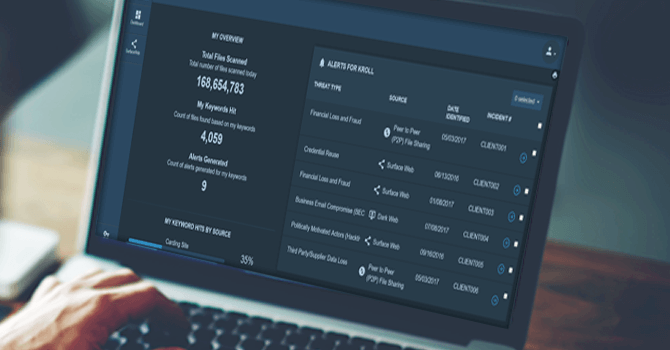 Extensive Digital Risk Protection
Identify and monitor key digital risks across millions of deep and dark web sources:
4M+ active P2P and dark web connections
200+ IRC channels
76K+ hidden dark web services
Nearly 4K new sources added daily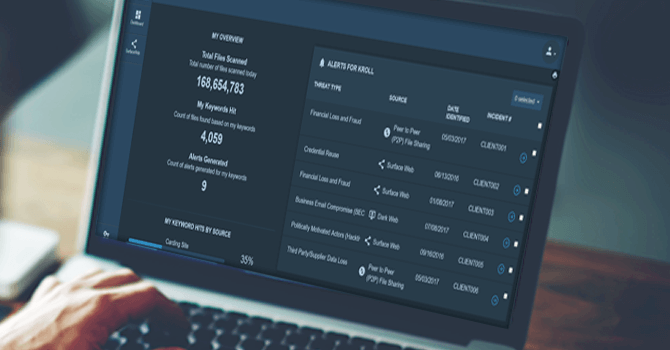 Threats at a Glance
CyberDetectER DarkWeb is your window to potential threats and exposures to your organization. The user-friendly dashboard provides insights into the number of files where your keywords were found, the actual number of alerts generated, as well as the threat type and source and mitigation recommendations from Kroll's experts.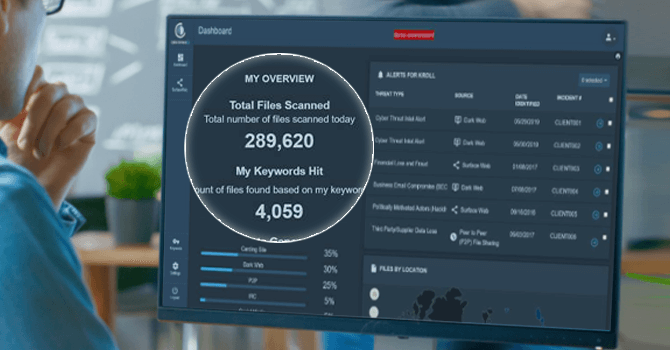 Review Credible Threats
Combining AI with expert human analysis helps cuts through the noise to eliminate false positives. This means you'll receive only credible threats, saving your team time to focus on real risks.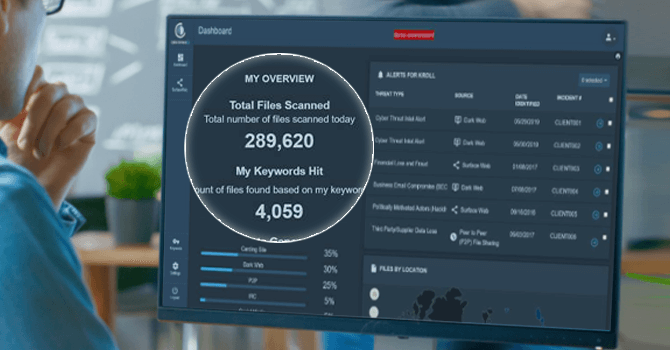 Versatile and Scalable to Meet Your Needs
In addition to the benefits produced by ongoing monitoring, CyberDetectER can be deployed for strategic applications, including but not limited to:
APIs and Data Feeds: Organizations with the requisite internal resources can arrange for rich intelligence feeds easily integrated with a variety of applications and Security Information and Event Management systems (SIEMs)
Customized Investigations: Our intelligence analysts can conduct deeper research to help support new ventures, M&A projects, litigation and suspected internal fraud, among others, and assist in assessing risk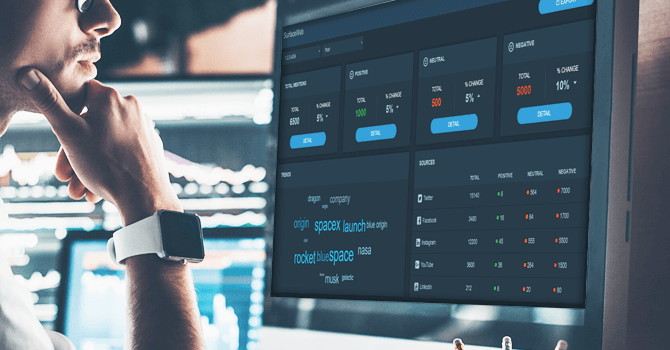 Actionable Alerts at a Glance
Each credible alert is accompanied by proactive advice on next steps your security team should take to protect your data or thwart a cyberattack. Recommendations are tailored to your organization and the exact threat.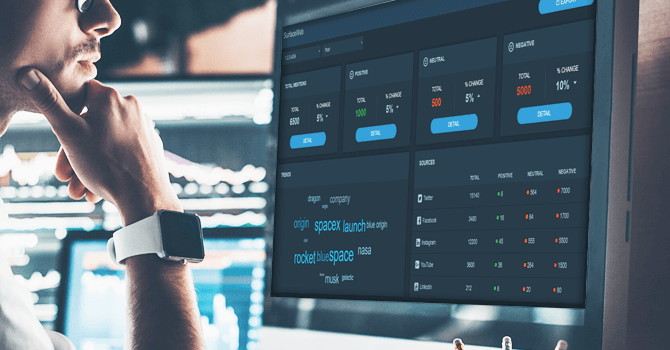 Combining Experience With Advanced Search
With more than 150 years of combined experience with cybercrime investigations as well as threat intelligence, Kroll experts can effectively recognize threats, provide meaningful assessments of exposure and vulnerabilities, and offer actionable advice.
Valuation
Valuation of businesses, assets and alternative investments for financial reporting, tax and other purposes.
Compliance and Regulation
End-to-end governance, advisory and monitorship solutions to detect, mitigate and remediate security, legal, compliance and regulatory risk.
Cyber Risk
Incident response, digital forensics, breach notification, managed detection services, penetration testing, cyber assessments and advisory.
Environmental, Social and Governance
Advisory and technology solutions, including policies and procedures, screening and due diligence, disclosures and reporting and investigations, value creation, and monitoring.