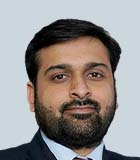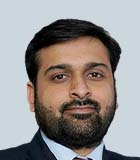 Vinay is a director at Kroll India and is based in the New Delhi office.
Vinay joined Kroll (formerly Duff & Phelps) in 2017. He brings 12 years of Valuation and Financial Advisory experience and has worked extensively on business valuation and intangible asset valuation predominantly in the pharma & life sciences, healthcare, technology, media and telecom industry sectors.
His specialization includes valuation for restructuring (valuation as well as swap / entitlement ratio determination for mergers / demergers under Companies Act), financial reporting (under US GAAP, IFRS, Indian GAAP and Ind AS), regulatory (Income tax, RBI/FEMA, SEBI) and strategic purposes. In the course of his career, Vinay has served clients across US, Middle East, South Africa, Japan, Korea, UK, and India.
He has also advised clients on raising capital from private equity funds and cross border acquisitions.
Vinay has contributed to 'Corporate Valuation' and 'Control Premiums in India' publications and has delivered guest lecture on the topic 'Intangible asset valuation' at Indian Institute of Management (IIM), Rohtak.
Prior to joining Kroll, Vinay has worked with the Valuation practice of PwC India. He has also worked with the Financial Advisory Services practice of Deloitte and Grant Thornton. Vinay earned his bachelor's degree in Business Administration (Finance) from Guru Gobind Singh Indraprastha University and master's degree in Business Administration (Finance) from ICFAI Business School, Hyderabad.
---
Valuation
Valuation
Valuation of businesses, assets and alternative investments for financial reporting, tax and other purposes.
Return to top