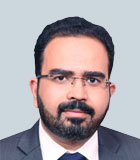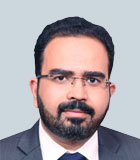 Umakanta Panigrahi
Managing Director
Umakanta is a managing director in Kroll based in Mumbai. In his current capacity, he is responsible for the overall financial valuation practice of West India.
He has over 15 years of experience in financial advisory services including valuation, fairness opinion, disputes, restructuring, equity research, credit research and other advisory services. Umakanta has managed a range of mandates including business valuation, intellectual property valuation, complex capital structure valuation.
He has also advised several clients on swap ratio determination, corporate finance, business plan development and review, exit strategies and shareholders' disputes.
Umakanta has managed and executed a range of financial advisory engagements for energy, utilities, infrastructure, private equity, insurance and financial services healthcare, telecom, media and entertainment, retail and IT and ITES industries for mergers & acquisitions, accounting and tax reporting, transfer pricing, litigation, dispute resolution and strategic purposes.
His specialization includes valuation of complex financial instrument (such as complex convertible instruments, earn-out and contingent payments, cross-currency interest rate swaps, options and other hedging instruments). He has also advised several companies on distress debt transaction, earn-out structuring and ESOP structuring.
Prior to joining American Appraisal, Umakanta has worked with the Financial Advisory Services practice of Deloitte and Investment Research & Valuation team of Evalueserve.
Umakanta holds a Master of Business Administration degree and a Bachelor's degree in Business Administration. Umakanta is also a Member of the Royal Institution of Chartered Surveyors (MRICS) under Valuation of Business and Intangible Assets pathway and holds the Certified in Entity and Intangible Valuations™ (CEIV™) credential from the American Society of Appraisers.
---
Return to top