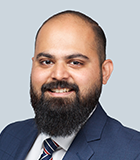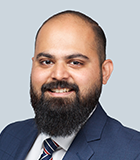 Terence Sequeira
Associate Managing Director
Terence Sequeira is an Associate Managing Director in the Data Insights and Forensics practice, based in Dubai. Terence is a data risk and forensic technology specialist who leverages more than 14 years of experience working with leading global and local clients to solve complex data challenges across all stages of the compliance, investigations and litigation lifecycle.
Prior to joining Kroll, Terence was Global Director of Discovery at Forensic Risk Alliance, where, in addition to championing global strategy, he led the forensic technology and discovery in the Middle East, Asia and Africa. Before that, he was an Assistant Director at Deloitte, where he led some of the largest forensic technology matters in the Middle East.
Terence has successfully led multimillion-dollar projects for clients across the Middle East, India, the U.S., the UK and Europe. Having spent nearly eight years in the Middle East, Terence brings a significant amount of regional experience combined with global expertise. He acts as a trusted advisor to clients collaborating closely with their legal, compliance and technology teams to provide robust, innovative and defensible forensic technology solutions at all stages of the compliance, litigation and investigations lifecycle. Working alongside an elite global team of technology experts, he helps clients achieve better outcomes quickly and confidently, by bringing a trusted, focused and proportionate approach to solving data challenges.
Terence's extensive experience in forensic collections, data processing, review management, document productions, quality assurance and reporting has enabled him to successfully develop strategies, design refined workflows, streamline processes, manage costs and create bespoke solutions for his clients.
Terence received a Bachelor of Commerce degree in computer applications from the University of Pune, and he holds software engineering credentials from NIIT, India. He also holds various digital forensics and discovery certifications, including Microsoft Certified Technology Specialist, RelativityOne Certified Pro, Relativity Certified Administrator, Brainspace Certified Specialist, Certified Cyber Crime Investigator, and Computer Hacking Forensic Investigator.
---
Data Insights and Forensics
Data Insights and Forensics
We are the leading advisors to organizations, providing expertise and solutions to address complex risks and challenges involving technology and data. We advise clients with services to address risks in disputes, investigations and regulatory compliance.
Investigations and Disputes
Investigations and Disputes
World-wide expert services and tech-enabled advisory through all stages of diligence, forensic investigation, litigation, disputes and testimony.
Return to top