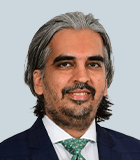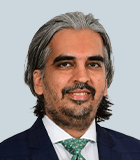 Tarun Bhatia
Managing Director and Head of South Asia
Tarun Bhatia is a managing director and head of South Asia in the Forensic Investigations and Intelligence practice of Kroll, based in the Mumbai office. Tarun has extensive experience in evaluating, measuring, and monitoring risks across corporate India over the past 15 years and is a well-regarded industry expert for financial services and structured finance.
Tarun advises clients on investments, partnerships, mergers, and acquisitions, and also helps them manage their litigation and dispute resolution process by providing investigative services. He has analyzed and evaluated over 1,000 listed and private companies in India, and his diverse client roster includes large conglomerates, banks, financial institutions, and corporations across power, oil and gas, aviation, steel, cement, auto, FMCG, infrastructure, and real estate sectors.

Prior to joining Kroll, Tarun was Senior Director at CRISIL, a subsidiary of Standard & Poor's, where he played a critical role in the transformation of the company from a domestic rating agency to a global analytical company. At CRISIL, he had a demonstrated track record of incubating and scaling profitable businesses both in India and international markets. Previously, Tarun worked in SBI Capital Markets, a leading investment bank, as part of their Financial Engineering Group responsible for structuring and selling complex financial instruments.

Tarun has published a number of articles on the Indian banking industry and capital markets which have been featured in Indian and international journals. He is a member of the FICCI Capital Markets Committee, India's largest and oldest apex business organization.
Professional Experience
Business Intelligence & Due Diligence
Tarun has significant experience in assessing business, operational, financial, and management risks across sectors. He works closely with investors and promoters, providing them critical business intelligence, and has led multiple due diligence assignments for banks and private equity, advising them on prospective investments.
Non-Performing Asset Investigations
Tarun has particular expertise in counseling Indian banks, non-banking financial companies (NBFCs), and asset reconstruction companies (ARCs) on risk management and successful recovery from non-performing assets (NPAs).
Structuring and Fund Raising
Tarun has advised over 100 clients and helped them raise funds (more than USD 10 billion) by structuring financial solutions. As an investment banker, he has structured transactions across asset classes, including collateralized debt obligations (CDOs), guarantee backed structures, future receivable securitization, and subordinate debt.
Outsourcing and Data Analytics
Tarun has deep knowledge of the outsourcing and data analytics industry. At CRISIL, he led their entry into global markets and was based in New York, spearheading a 150-member offshore team catering to clients across the U.S., Europe, and Asia Pacific. He has closely worked with data vendors and IT companies in developing products, tools, and databases to support processing of complex data and financial reports.
Key Assignments
Advised one of the largest government-managed retirement corpus globally (over USD 50 billion) in privatization of their fund management. The exercise involved extensive interactions and deliberations with cabinet ministers, senior government officials in the Finance and Labor Ministry, and the union representatives to get their buy-in for the reform.
Helped draft the necessary policy-level changes and subsequently represented the client in selection of private fund managers.
Assisted a global private equity to assess the operations and governance levels of a leading infrastructure group in India. The due diligence included analyzing various businesses of the group, political associations, sources of funds, money laundering, creditworthiness, and potential conflicts of interest. Extensive primary and secondary research, including interviewing key internal and external stakeholders, was carried out for this exercise.
Advised a large global development financial institution for their maiden investment in the power sector in India. Carried out detailed viability study of the power sector across thermal, hydro, solar, and wind. Identified the key regulatory and administrative bottlenecks and benchmarked the operational and financial performance of the existing players. Studied the prevailing funding model for the sector and suggested multiple structuring options.
Led the due diligence exercise for a leading Cambodian microfinance institution which enabled a self-help women's group to take loans and set up sustainable businesses to support their families.
Carried out detailed analysis of the political, business, and regulatory risks in the region. Engaged actively with the government officials, regulators, financial institutions, other microfinance institutions, and existing customers to assess the risk and comment on the credit strength of the institution.
Education and Certifications
Master of Management Studies, Jamnalal Bajaj Institute of Management Studies (JBIMS), University of Mumbai
BCom, University of Mumbai
Affiliations & Memberships
FICCI Capital Markets Committee
---
Return to top