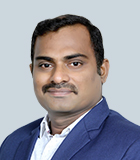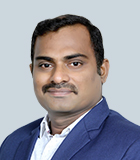 Suveka Tammireddy
Director
Suveka Tammireddy is Director – Development Operations in the Technology team, based in Hyderabad. Suveka also serves as City Leader for Kroll's Hyderabad office. Being part of the company's technology group, he leads the Automation Center of Excellence, which provides technology solutions for various internal and external digital products across the business units.
Suveka plays a vital role in delivering technology solutions from India, overseeing the day-to-day operations in Hyderabad and Mumbai for various IT functions. With his strong leadership, strategies and vision, Suveka is instrumental in Kroll's technological growth in India.
Suveka has nearly two decades of experience in the IT industry, building digital products in the financial and telecommunications industries. His core technical capabilities include application/program management, Sarbanes-Oxley Act (SOX)/audits/digital transformations by setting up a data lake, machine learning (ML)/robotic process automation (RPA)/intelligence process automation (IPA) implementations and execution of production stability processes for machine critical systems.
Prior to joining Kroll, Suveka worked as a technical delivery manager at Credit Suisse for nearly 11 years across Singapore and Pune, where he held multiple leadership roles on application development, production support and vendor management. He had set up the India Delivery Center for Product Control IT systems for P&L reporting, front-office to back-office (FOBO) reconciliations, adjustments and fair value leveling. Prior to that, Suveka worked with various other global firms such as Verizon Telecom, Patni Telecom and Capgemini Financial Services. He started his career as a .NET developer and has held various roles across multiple domains. He has managed project portfolios of multimillion budgets.
Suveka holds an engineering degree in computer science and information technology from Jawaharlal Nehru Technological University, Hyderabad.
---
Return to top