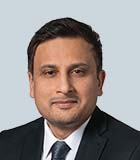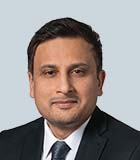 Sushil Patel is a director in the UK Advisory practice, based in the London office. He also leads the Tax Advisory team. He has over 12 years of experience in the corporate restructuring and advisory market. With extensive experience on both the advisory and the formal restructuring side, Sushil's sector expertise includes retail, automotive, and hospitality and leisure businesses.
Sushil has recently assisted several investors in uncovering a multimillion-pound fraudulent Ponzi style investment scheme. Due to concerns regarding the financial affairs of the group, Kroll was appointed as Interim Manager of the group and subsequently secured administration appointments over hotels, in which investments were marketed by the group, in consultation with the various secured lenders. Sushil leads the investigations and recovery strategy for this multimillion-pound investment scheme.
Before joining Kroll, Sushil trained at RSM and was seconded to the role of Head of the Recoveries and SME Credit team at Worldpay in 2015 for 12 months, where he advised on several high-profile exposures and mitigating risk.
Sushil has built an excellent knowledge of HM Revenue & Customs debt processes and has successfully agreed more than 200 Time To Pay arrangements for clients, with a wide variety of debt size, safeguarding thousands of jobs and formulating companies' restructuring programs. This includes negotiating securities bond requirements and the release of various tax credits to assist in cash flow.
Sushil has managed several appointments from small and medium enterprises, typically businesses with a turnover of over £50 million; one such appointment involved working on a multimillion-pound retail assignment. Sushil has extensive trading experience, including trading retail and leisure assignments.
Sushil holds an LLB (Honors) degree from the University of Kent and is a JIEB Qualified Insolvency Practitioner.
---
Restructuring
Restructuring
Financial and operational restructuring and enforcement of security, including investigation, preservation and realization of assets for investors, lenders and companies.
Return to top