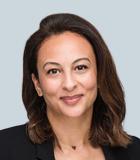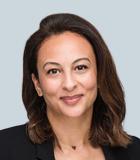 Sultana El-Sayed
Managing Director and Head of Forensic Investigations and Intelligence Saudi Arabia
Sultana El-Sayed is a managing director in the Forensic Investigations and Intelligence practice, based in Riyadh. In addition, Sultana also serves as Head of Kroll's Saudi Arabia Forensic Investigations and Intelligence practice.
Sultana leverages more than 15 years of experience specializing in risk management advisory throughout all stages of diligence, forensic investigations, litigation support, and asset tracing and recovery. With a focus on the Middle East, Sultana was previously based in Kroll's London and Dubai offices before establishing the Saudi business.
Sultana advises a range of clients, government agencies and ministries, regulators parastatals, private companies, financial institutions, investment firms and HNWIs on a variety of strategic, commercial and risk management issues, unique to emerging and frontier markets.
Sultana has a proven track record of advising board and management teams to respond to challenges stemming from internal fraud, embezzlement and corruption, and she also supports investment teams to identify and mitigate reputational risks and liabilities across the investment lifecycle, and in existing and new markets.
In the Kingdom of Saudi Arabia, Sultana supports clients manage problematic assets and progress country-wide strategic initiatives. Her personal casework includes investigations into credit fraud and non-performing loans (NPLs), financial mismanagement, fraud and embezzlement on behalf of government clients, the Capital Markets Authority, and family offices. She has also been engaged in the pursuit of international asset recovery strategies.
Prior to joining Kroll, Sultana worked at Grant Thornton International and Barclays Capital in London, where she undertook strategic research projects for management teams seeking growth and market entry opportunities in the Gulf Cooperation Council and the broader Middle East.
Sultana holds an M.Sc. in international management for the Middle East and North Africa from the School of Oriental and African Studies. She also holds a B.A. with Honors in Classics from the University of Bristol.
---
Forensic Investigations and Intelligence
Forensic Investigations and Intelligence
Kroll's forensic investigations and intelligence team delivers actionable data and insights to help clients across the world make critical decisions and mitigate risk.
Return to top