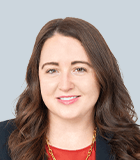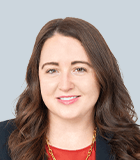 Stacey Corr-Irvine
Director
Stacey Corr-Irvine is a New York-based director in the Restructuring Administration practice, with over 12 years of restructuring experience.
In her role, Stacey manages critical client service functions of the firm, including overseeing public-facing Chapter 11-related communications and maintaining standards in reporting and court filings.
Prior to joining Kroll, Stacey was a partner in the Business Restructuring and Reorganization department of Jones Day where she represented debtors and key creditor constituencies in large, complex Chapter 11 cases, including American Apparel, RCS Capital Corporation and M&G US Corporation.
Stacey holds a Bachelor of Arts in political science from Villanova University and a J.D. from Brooklyn Law School.
---
Return to top