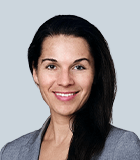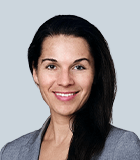 Sherine Ebadi
Associate Managing Director
Sherine Ebadi is an associate managing director in the Forensic Investigations and Intelligence practice of Kroll, based in the Los Angeles office.
Sherine works with clients to build bespoke, solution-driven engagements. She actively manages investigative teams by directing case strategy, conducting critical and sensitive interviews, analyzing results of data analytics research and forensic accounting to drive investigative leads, preparing client reports, and testifying as an expert witness. Sherine testified several times in U.S. Federal Court on issues involving fraud and financial crimes.
Sherine joins Kroll from the FBI where she worked as a fraud and financial investigations specialist on a complex financial crimes/public corruption squad for over 10 years. Sherine is an expert in interviewing and has provided training to both law enforcement and private sector professionals on investigative techniques. As the lead case agent during Paul Manafort's investigation and trial in the Eastern District of Virginia, Sherine led a team of agents and support personnel from the FBI, the Internal Revenue Service, the Federal Deposit Insurance Corporation and the U.S. Department of Justice. Before joining the FBI, Sherine was a senior specialist investigator at United States Information Services (USIS) where she served as a team lead and training investigator. She has also worked with several non-governmental organizations across the Czech Republic, Bosnia, India and Turkey.
Sherine's casework includes successfully investigating and helping prosecute several high-profile cases involving complex financial crimes, money laundering, securities fraud, public corruption, organized crime and asset forfeiture. Sherine's notable cases include Gulfstream Corporation CFO's $20+ million (mn) embezzlement, Jeff Yohai's $20+ mn investment/bank fraud/identity theft, a $100 mn international bank fraud/money laundering, a $20 mn international securities fraud, and a $10 mn bank fraud/money laundering/identity theft perpetrated by international organized crime groups.
Sherine has regularly worked in conjunction with state, local, federal and international law enforcement partners and regulatory bodies; coordinated with anti-money laundering/Bank Secrecy Act and compliance personnel in several major financial institutions; and assisted forensic accountants and asset forfeiture specialists in reviewing voluminous financial records and in locating and seizing assets.
She has received numerous notable honors, including the FBI Medal of Excellence, FBI Excellent Performance Award and U.S. Attorney's Award.
Sherine received a B.A. in history (magna cum laude) from the University of California, San Diego. She is fluent in both English and Turkish.
---
Ebadi
/en/our-team/sherine-ebadi
/-/media/kroll/images/headshots/managing-directors/sherine-ebadi.png
people
{01699FB1-A280-41EA-B450-4639512275D3}
{A1F59F33-F734-45CE-99C0-DB8D4257CC6E}
{9FD1BB57-719D-44EE-9D4A-2E89D336D607}
{CEBF9DCE-215C-42E3-9503-39B87D6BFFE0}
{55013783-9455-4D36-882A-1D17F8D58889}
{C3CDFD67-9703-400A-B17E-118CE9D7E4AB}
{047C49DE-F44A-4E06-9DE8-782E565F291A}
{C6E677F2-B5B4-485D-AA0E-9FBAA922A793}
{DE563436-603A-4189-95C9-694668C73511}
{C811D92E-614C-417A-AF4F-EB80E516C701}
{0517A987-4628-4F79-BEB4-894DB6FBF8BA}
{642ACBF7-B15D-49F5-8329-30430921EB04}
{2DEEE4D2-8278-4C50-B3FF-1563BB257804}