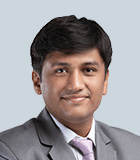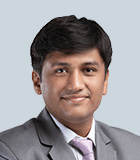 Prakhar is a director in the Restructuring practice at Kroll, based in Mumbai. Prakhar leverages more than 13 years of experience, majorly in insolvency, turnaround and advisory roles.
Prior to joining Kroll, Prakhar was a part of one of India's leading private sector bank's strategic solutions group, working closely with corporate clients in executing turnaround strategies. As part of his role with the bank, he monitored critical exposures with the objective to maintain asset quality and help in quick settlements. As part of executing turnaround strategies, he was involved with companies' top management to evaluate the current status of the business and implement performance improvement strategies.
At Kroll, Prakhar has led the firm's key engagements where he managed the insolvency process of a company with a debt of nearly $2 billion (bn). He has also led sell-side advisories for one of India's largest infrastructure development company with a debt of nearly $2 bn as well as for an eight megawatt renewable power asset. He has also led sell-side advisories for one of India's largest shipbuilding companies with a debt of close to $1.5 bn and also for a tinplate manufacturing company with a debt size of nearly $400 million.
Prakhar is actively involved in advisory assignments for lenders on evaluation and negotiating with prospective investors, including two such major engagements each with a debt size of nearly $1 bn. He is also actively engaged in cash flow monitoring situations providing a further layer of diligence to lenders and investors. He has also worked with India's largest IT company as the company's finance functional lead in one of its projects, where he mapped client businesses and suggested business process re-engineering solutions. During his time with the firm, he also successfully implemented Oracle Financial Modules for the company.
Prakhar holds an MBA in finance from IIM Shillong and is a Chartered Accountant (CA) with Institute of Chartered Accountants of India.
---
Restructuring
Restructuring
Financial and operational restructuring and enforcement of security, including investigation, preservation and realization of assets for investors, lenders and companies.
Return to top