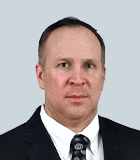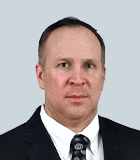 Nickolas B. Savage
Associate Managing Director
Nickolas B. Savage is an associate managing director in the Cyber Risk practice, based in the Secaucus office. Nickolas has over 28 years of experience in cyber forensics, cybercrime, crisis response, violent crime and counterterrorism, including over 20 years with the FBI working on matters involving national security and various criminal matters. At Kroll, he manages complex client engagements with multiple components including risk assessment and forensic investigation and represents the firm in speaking engagements, conventions and industry events.
His notable experience with the FBI includes serving as Assistant Special Agent in Charge at the Baltimore Field Office where he led 11 squads, including Maryland's Joint Terrorism Task Force and 195 agents, analysts, task force officers, linguists, and cyber and crisis response personnel; and his Washington, D.C. headquarter experience leading and managing the FBI's Innocent Images program, the Internet Crimes Complaint Center (IC3), Infragard, the Cyber Initiative and Resource Fusion Unit, Cyber Criminal investigations and Cyber National Security (with areas of operation in Asia, Europe and the Middle East/Africa). While at the Washington Field Office, Nickolas managed several different digital forensic laboratories to include a counterintelligence laboratory worked in conjunction with a United States Intelligence Community (USIC) community partner.
Nickolas was a member of the Council of Governments Chiefs of Police, Maryland Chiefs of Police Executive Board, Anti-Terrorism Advisory Council, Maryland Coordination and Analysis Center, and FBI Baltimore Policymakers in 2018-2019.
As a police officer, Nickolas has held several positions with the city of Pittsburgh, Bureau of Police in Pennsylvania, including Patrol Officer and Detective in Internal Affairs and the Sexual Assault Unit.
Nickolas holds a B.A. in history and sociology from Duquesne University; an MPM in management and public policy and M.S. in information technology (security and assurance) from Carnegie Mellon University; and an M.S. in criminal justice from Boston University. His certifications include chief information officer (CIO) from Carnegie Mellon University; CIO in Federal Executive Competencies; chief risk officer from Carnegie Mellon University; and cybersecurity strategy from Georgetown University. Additionally, Nickolas has an Executive Leaders Program in National Security certification from the Naval Postgraduate School.
Nickolas has won several awards, including Florida Law Enforcement Officer of the Year in 2002 and 2005; and Outstanding Law Enforcement of the Year in 2001 and 2002 which was presented by the U.S. Attorney's Office – Middle District of Florida. Nickolas is also on the board of the Georgetown Cybersecurity Law Institute (CSLI) in Washington, D.C., which is a cross-functional, international cyber education program that brings together lawyers, CIOs, CISOs, board of directors and government personnel.
---
Cyber Risk
Cyber Risk
Incident response, digital forensics, breach notification, managed detection services, penetration testing, cyber assessments and advisory.
Incident Response and Litigation Support
Incident Response and Litigation Support
Kroll's elite security leaders deliver rapid responses for over 3,000 incidents per year and have the resources and expertise to support the entire incident lifecycle.
CyberDetectER
CyberDetectER
Proactively monitor, detect and respond to threats virtually anywhere – on endpoints and throughout the surface, deep and dark web.
Virtual CISO (vCISO) Advisory Services
Virtual CISO (vCISO) Advisory Services
Kroll's Virtual CISO (vCISO) services help executives, security and technology teams safeguard information assets while supporting business operations with augmented cyber expertise to reduce business risk, signal commitment to data security and enhance overall security posture.
Return to top