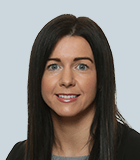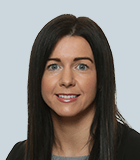 Niamh Jacob
Associate Director
Niamh Jacob is an associate director in the Restructuring Advisory practice, based in Dublin. Niamh leverages more than 12 years of experience in managing multidisciplinary teams through large assignments, particularly in the manufacturing, health care and retail sectors. She also has extensive corporate advisory experience and has worked with a number of global private equity funds, alternative lenders, pillar banks, SMEs and private investors.
Since joining Kroll in 2011, Niamh has developed broad industry knowledge across many sectors, having worked on numerous complex assignments, with specific experience in the areas of financial advisory, due diligence, corporate restructuring, advisory and strategic reviews. She plays an important role in the project management of a number of high-profile property assignments consisting of mixed use residential, commercial and partially complete developments. Niamh's role is focused on providing clear strategic advice to enable and support clients in carrying out projects and completing transactions.
Niamh also has significant experience working on business reviews and financial monitoring across multiple industries and sectors, including hospitality, retail, childcare and manufacturing. Her role is to review the financial information available and to prepare analysis in terms of the variances, working capital management and cash flow assessment to include future projections. As part of this role, Niamh has dealt with key senior members of the finance and operational departments of the clients' companies to extract the requisite information and deliver within the scope of the various projects.
Niamh has also undertaken due diligence and investigations on the financial performance of complex group structures with a focus on financial analysis and reviewing internal controls and procedures. She has prepared information memorandums for submission to funders to raise debt and equity funding for SMEs, in addition to establishing the funding requirements for company acquisitions and stress testing companies' free cashflow available to service debt.
Niamh holds a Bachelor of Business (Honors) in accounting from Galway-Mayo Institute of Technology, Galway. She also holds a Diploma in Corporate Finance from Chartered Accountants Ireland. Niamh is a Fellow of the Association of Chartered Certified Accountants (FCCA) and a member of the Restructuring & Insolvency Ireland (RII). She is also a member of Kroll's Charitable Foundation and of the International Women's Insolvency and Restructuring Confederation Ireland (IWIRC).
---
Restructuring
Restructuring
Financial and operational restructuring and enforcement of security, including investigation, preservation and realization of assets for investors, lenders and companies.
Return to top