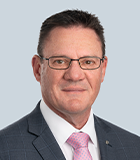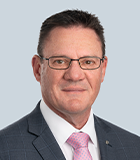 Michael Phelan
Strategic Advisor
Michael Phelan is Strategic Advisor to Kroll to advise the firm's Forensic Investigations and Intelligence practice in Australia, adding to the team's robust expertise in complex investigations challenges related to fraud, corruption and anti-money laundering. Based in Canberra, Michael leverages more than 35 years of experience in law enforcement.
Prior to joining Kroll, Michael served as Chief Executive Officer of the Australian Criminal Intelligence Commission (ACIC) and Director of the Australian Institute of Criminology (AIC), where he oversaw the development and maintenance of national information and intelligence sharing services through key initiatives, including the National Criminal Intelligence System, the National Child Offender System, and the Australian Firearms Information Network. Before that, he held the title of Chief Police Officer of ACT Policing and Deputy Commissioner for National Security at the Australian Federal Police.
Additionally, Michael was recognized with the National Medal in 2000 and was awarded the Australian Police Medal in 2008. Michael holds a degree in commerce, an Honors degree in law and a master's degree in business administration from Melbourne Business School.
---
Forensic Investigations and Intelligence
Forensic Investigations and Intelligence
Kroll's forensic investigations and intelligence team delivers actionable data and insights to help clients across the world make critical decisions and mitigate risk.
Investigations and Disputes
Investigations and Disputes
World-wide expert services and tech-enabled advisory through all stages of diligence, forensic investigation, litigation, disputes and testimony.
Return to top