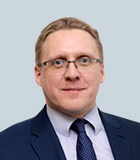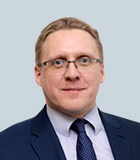 Mark Le Page is a director and the leader of the Regulatory Consulting practice, based in Guernsey.
Prior to joining Kroll, Mark led the Guernsey regulatory team at another organization for over three years where he was a subject matter expert for blockchain, the firm's response to the European Commission on the digital euro consultation and the construction of the firm's machine learning tool for European financial services regulation. In this role, he provided anti-money laundering remediation support to clients as well as skilled persons reviews for the regulator.
Prior to that, Mark was Deputy Director at the Guernsey Financial Services Commission where he was responsible for consolidating and creating the investment product strategy and project managing investment rules, including open- and closed-ended funds, private investment funds, rules for stock exchanges and market code of conduct. This included creating fintech real-world solutions and being part of the government-regulator-industry working party on the economic substance requirements placed on "2.2 jurisdictions".
He was also on the board which approved the 2009 Anti-Money Laundering Handbook. In addition, Mark has participated in IOSCO European Regional Committee meetings and regulatory visits from the UK regulator on behalf of HM Treasury, MONEYVAL and the International Monetary Fund. Currently, Mark is on the committee of two ACCA international technical fora: one for business law (currently as chair) and the other for business ethics, having also sat on corporate reporting previously.
He has a global executive master's degree in management research (specialization in stablecoins) from ESCP Business School and is currently delving into DeFi investment gardens and vaults as he progresses to a global executive Ph.D. He is a member of the Rewley Circle of Saïd Business School at the University of Oxford.
---
Le Page
/en/our-team/mark-le-page
/-/media/kroll-images/headshots/mark-le-page.jpg
people
{4D5F3272-D961-43F9-A68A-1C9C7C28832E}
{26D52B63-5CF0-45FE-9A64-2529B0414075}
{70E25357-B690-49B8-948F-958DAD26DCD4}