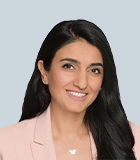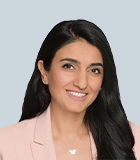 Liya Vanyan is a director in the Transaction Advisory Services practice, based in Los Angeles. Liya has more than 10 years of experience providing transaction due diligence and M&A advisory services to large multinationals, middle-market companies and startups across a number of sectors.
Liya's experience includes providing both private equity and corporate buyers with detailed financial and operational analysis within the technology, industrial products, consumer business, education and health care sectors. She also assists with transaction documents, purchase price adjustments, merger integration/transition and post-acquisition accounting and reporting.
Prior to joining Kroll, Liya worked at Grant Thornton LLP in the Transaction Services line and the Audit practice, where she served large, publicly traded SEC-registrants.
Liya has worked on more than 100 M&A transactions for leading corporations and private equity firms, including international experience on cross-border deals between Europe, the U.S. and Asia. She has technical accounting expertise in U.S. GAAP and IFRS for contract revenue recognition and other technical areas.
Liya holds a B.S. in accounting and finance from the University of Southern California, and she is a licensed CPA (inactive) in California. Liya is also fluent in Russian and Armenian.
---
Transaction Advisory Services
Transaction Advisory Services
Kroll's Transaction Advisory Services platform offers corporate and financial investors with deep accounting and technical expertise, commercial knowledge, industry insight and seamless analytical services throughout the deal continuum.
Financial Due Diligence
Financial Due Diligence
Kroll's Financial Due Diligence team provides Quality of Earnings (QoE) and key financial analyses for buyers, sellers and banks in M&A transactions.
Mergers and Acquisitions (M&A) Advisory
Mergers and Acquisitions (M&A) Advisory
Kroll's investment banking practice has extensive experience in M&A deal strategy and structuring, capital raising, transaction advisory services and financial sponsor coverage.
Operations Advisory Services
Operations Advisory Services
Operational process improvement to increase company value in Transactions, Expansion, and Turnaround.
Transaction Structuring and Accounting
Transaction Structuring and Accounting
Technical accounting expertise across the entire deal life cycle from designing deal structures during the diligence phase through to post deal integration and dispute services.
Comprehensive Due Diligence Solution
Comprehensive Due Diligence Solution
Our Comprehensive Due Diligence solution helps clients minimize risks and make the most informed business decisions. We support in the areas of tax, compliance and regulatory, ESG, operations/strategy, M&A, financial and accounting, investigations, disputes and cyber/IT risk.
Return to top