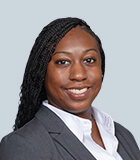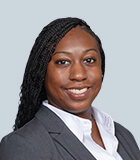 La'Tanya Ferguson
Director
La'Tanya Ferguson is a director in the Government Solutions practice, based in Richardson.
La'Tanya leverages more than nine years of unclaimed property experience. She has expertise assisting in various areas of unclaimed property, specifically in the area of compliance and self-audits (examinations).
In her current role La'Tanya provides a scope of data-driven regulatory compliance services to U.S. state agencies, including conducting unclaimed property examinations.
Prior to joining Kroll, La'Tanya served over nine years in the United States Air Force as a security forces member (Military Police), where she held the rank of E-5 (Staff Sergeant). She initially began her career with Kroll in property tax, managing numerous customer accounts and large quantities of data. She also worked to customize client-specific solutions and then quickly expanded her expertise to include the area of unclaimed property compliance.
La'Tanya has successfully guided client personnel in the collection, review and analysis of information to support unclaimed property compliance matters.
La'Tanya holds a Bachelor of Arts in psychology from American Military University (AMU). She will be continuing her education at the same university in the fall of 2023, where she will earn a master's degree in management with a concentration in organizational leadership. La'Tanya is a current member of the National Association of State Treasurers (NAST).
---
Government Solutions
Government Solutions
Industry leader providing U.S. state agencies with data-driven compliance and recovery solutions through proprietary technology.
Business Services
Business Services
Streamline your complex administrative needs with Kroll.
Return to top