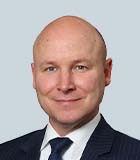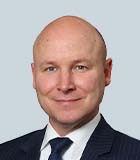 Klaus-Martin Haussmann
Managing Director
Klaus-Martin Haussmann is a managing director in the Transaction Advisory Services practice in Germany. He operates with teams from Frankfurt, Munich and Düsseldorf.
He has over 25 years of experience in transaction advisory services and extensive experience as an auditor for over 5 years.

Klaus has advised mid- and large-cap corporate clients, financial investors and family offices across Europe and in particular to and from North America and China. His experience encompasses complex cross-border buy- and sell-side due diligence assignments, including multi-layered carve-outs. He has also led valuation projects, post-merger integration (PMI) projects as well as restructuring projects (assessments under IDW S 6, S 9, S 11).
Klaus has worked on more than 300 due diligence projects in Germany, Austria, Switzerland, Italy, France, Spain, Sweden, Denmark, the Netherlands, UK, U.S., Canada, Brazil, China, Taiwan, Czech Republic, Slovakia and Poland. His work spans industries including, but not limited to, automotive, med tech, pharma, machine manufacturing, media and entertainment, retail, food and beverage, chemicals, agricultural equipment and dealerships, defense and engineering consulting.

Recent engagements include:
Acquisition of Meyra Group by H.I.G. Capital

Acquisition of a share in Fritz Kola by Solvia (family office)

Acquisition of stainless wire business of Sandvik by Zapp AG

Acquisition of Biomolecular characterization, chromatography hardware and resins businesses by Sartorius AG

Acquisition of BionX by Ottobock, acquisition of Freedom Innovations by Ottobock

Sale of CLAAS agricultural equipment dealership in Canada

Acquisition of Reisenthel by Invision

Acquisition of Zeit für Brot by Afinum
Prior to joining the firm, Klaus spent four years at Rödl & Partner in Germany where he led the business restructuring practice and performed transaction advisory services, in particular in an international environment. Prior to that, he worked at EY (and predecessor firm Arthur Andersen) for 21 years, serving as partner for 10 years.

Klaus received a degree in trilingual studies business administration from the European Business School. He is a Certified Public Accountant and a Steuerberater (German tax consultant). Apart from native German, Klaus is highly proficient in English, fluent in French and has basic skills in Spanish.
---
Ranked No. 1 for Global Fairness Opinions
Duff & Phelps Opinions is a global leader in Fairness Opinions and Special Committee Advisory, ranking #1 for total number of global fairness opinions for full year 2022 and the past 10 years, according to Refinitiv cumulative data from 2013-2022.
Transaction Advisory Services
Kroll's Transaction Advisory Services platform offers corporate and financial investors with deep accounting and technical expertise, commercial knowledge, industry insight and seamless analytical services throughout the deal continuum. Duff & Phelps acquired Kroll in 2018 and unified under the Kroll brand in 2020.
Financial Due Diligence
Kroll's Financial Due Diligence team provides Quality of Earnings (QoE) and key financial analyses for buyers, sellers and banks in M&A transactions.
Sell-Side M&A/Vendor Due Diligence
We unlock hidden value as our clients sell or carve-out a non-core business.
Working Capital Analysis
Balance sheet analysis to establish target working capital and evaluate balances delivered at closing.
Return to top